Cynon Valley MP Ann Clwyd faces re-selection by Labour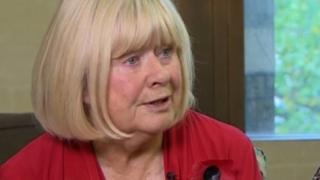 Cynon Valley MP Ann Clwyd faces re-selection to defend her seat at the general election, the Labour party has said.
The 77-year-old MP announced in February she was standing down after representing the area since 1984.
But in September Ms Clwyd said she had changed her mind after "many requests" from local voters that she reconsider.
Welsh Labour said the candidate selection was already in process after she announced she was stepping down.
'Enthusiastic' reaction
In a letter to constituents, Ms Clwyd said: "I hope to stand again for re-election with your support."
She said the decision was taken after "careful consideration of the arguments put to me".
Ms Clwyd said at the time that she had received a "very enthusiastic" reaction from people to her decision.
It followed a row over Labour's decision to use an all-women shortlist to select her successor, which has been strongly opposed by the local party.
Cynon Valley Labour constituency secretary Alun Williams said the local party would go on "strike" and not take part in the candidate selection process if an all-women shortlist was imposed.
Welsh Labour responded to Mr Williams's comments by saying it would run the selection process if necessary.
Analysis by David Cornock, BBC Wales parliamentary correspondent
Ann Clwyd could be forgiven for thinking that she was helping Labour out by re-thinking her retirement plans.
Standing again would avoid the row provoked by the party's decision to choose her successor from an all-women shortlist.
That row prompted her local party to threaten to go "on strike".
But Labour insists it has to stick to its rules, and the seat will be advertised.
It's unclear if would-be Labour MPs will stand against Ms Clwyd or give her a free run.
If Cynon Valley activists do carry out their threat not to engage in the selection process, local party members will be asked to choose a candidate from a shortlist drawn up by Labour centrally.
Health campaign
Ms Clwyd, a former Labour shadow minister, has been outspoken on the state of the NHS following failings in the care of her husband at the University Hospital of Wales, Cardiff, in the days leading up to his death.
David Cameron appointed her as an adviser on how hospitals in England should handle complaints.
Ms Clwyd has represented the Cynon Valley since winning a by-election there in 1984.
She previously fought and lost Denbigh in 1970 and Gloucester in 1974 for Labour, and then served as a Euro MP for Mid and West Wales from 1979 to 1984.
Announcing her change of heart in September, Ms Clwyd said party officials had been aware of her decision for some time but she delayed making it public until after the Scottish referendum on independence.
A Welsh Labour spokesperson said: "Under established procedures a full selection takes place where a sitting MP announces their intention to stand down. The selection will begin later this month."
Labour's national executive committee will discuss on Tuesday whether to confirm a sub-committee's decision to press ahead with a full candidate selection process.
Ms Clwyd has been asked to comment.