Wales NHS 'second-class' claims health secretary Hunt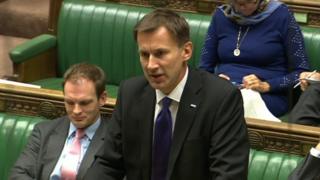 Welsh patients receive a second-class health service, UK Health Secretary Jeremy Hunt has claimed.
He told MPs there was "absolutely intolerable pressure" on hospitals on the England-Wales border, and that the English NHS should be compensated.
The Welsh government has denied claims that thousands of patients were "desperate to flee" the NHS in Wales.
It said residents of border counties routinely travel to England for treatment in their nearest hospital.
During health questions in House of Commons on Tuesday, Chester Conservative MP Stephen Mosley said health services in his city were suffering "strains" because of the need to treat "thousands" of patients "fleeing the disastrous management of Labour in Wales".
Cross-border treatment
Mr Hunt said the MP was right to talk about the pressures on the border.
"For every one English patient that is admitted for treatment in a Welsh hospital, five Welsh patients are admitted for treatment in an English hospital, and that creates huge pressure for them," he said.
"I have written to the Welsh health minister to say that the NHS is happy to treat more Welsh patients, but the trouble is they aren't prepared to pay for it, and that's why Welsh patients get a second-class health service."
Hywel Williams, Plaid Cymru MP for Arfon, asked Mr Hunt to accept that people had been travelling from north Wales to England for hospital treatment for decades, and that both Labour and the Conservatives were "culpable".
Mr Hunt said: "We're very happy for people to travel anywhere in the United Kingdom.
"The concern I have in terms of health services in England is the pressure created because for every one patient that goes from England to Wales, five want to come from Wales to England."
First Minister Carwyn Jones has defended the Welsh government against criticism of its record on health, saying the NHS in Wales was in no more difficulty than in England.