Health attacks 'impact' on staff morale warning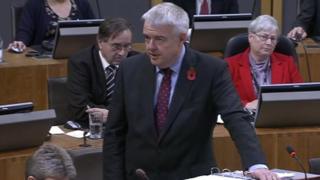 Criticism of the health service in Wales will do nothing for staff morale, the first minister has said.
Carwyn Jones told assembly members that Health Minister Mark Drakeford had written to health workers following attacks on the Welsh NHS.
Claims that thousands of patients were "desperate to flee" the Welsh NHS have been dismissed by the Welsh government.
It said residents of border counties routinely travel to England if that is where their nearest hospital is.
'Very proud'
Mr Jones has dismissed calls for an inquiry into the running of the NHS in Wales following claims by the Daily Mail that the service was in "meltdown".
Speaking during First Minister's Questions on Tuesday, he said: "I don't pretend in any way that the Welsh NHS doesn't have its difficulties - it clearly does.
"We as a government are committed to dealing with those difficulties - what we won't do, though, is play politics with the issue of people's health."
Writing to NHS staff in Wales, Health Minister Mark Drakeford said he was "very proud" of their work and warned that political and media attacks would "intensify" in the run up to the general election.
"It saddens me to see our NHS used in this way," he wrote, warning of the "potentially damaging impact" on morale.
Meanwhile Mr Drakeford has also written to UK Health Secretary Jeremy Hunt accusing the Conservatives of a ploy to drag the reputation of the Welsh NHS "through the mud for entirely partisan political purposes".
Mr Hunt told the House of Commons on Tuesday that Wales was getting a "second-class" health service.
A detailed rebuttal of the Daily Mail's claims has been published by the Welsh government.
The newspaper resumed its attack on Tuesday with claims that thousands of patients were "desperate to flee" Wales to seek treatment in England.
A claim that nearly 16,000 cancer patients had sought treatment in England has been dismissed by the Welsh government. It said the figure was nearer 1,000 patients making a total of 16,000 visits.
Analysis by Nick Servini, BBC Wales political editor
Even by the high-profile standards of some of the articles criticising the state of public services in Wales over the past year, the Daily Mail's blistering attack on the Welsh NHS seems to have gone up a notch.
We already knew much of what was in the Daily Mail, such as the call for an independent inquiry and bitter complaints from the relatives of people who have died.
But the real heart of the controversy is the hard data itself, which the Welsh government insists paints a different picture in sensitive areas like cancer treatment, while the paper in its coverage claims the opposite.
With so many figures flying around, you can see why this is an issue people are going to be arguing about right up until the general election.