Cardiff Airport's 'unfair boost' if air duty devolved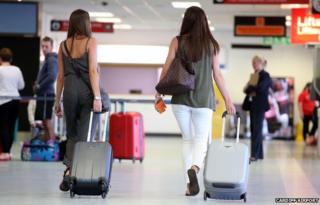 Cardiff Airport would have a "significant advantage" over its rivals if the Welsh government won the power to set air passenger duty, the boss of Bristol Airport has claimed.
It would mean the airport could cut or abolish the duty, resulting in potentially cheaper flights.
The idea has been rejected by the UK government under current plans to devolve financial powers to Wales.
However, the four main parties in Wales have called for it to be reconsidered.
Bristol Airport chief executive Robert Sinclair claimed any power to cut or abolish the duty would be unfair.
The duty imposes a £13 charge on every passenger flying from the UK on short flights, rising to £97 for the most distant long-haul destinations, with the amounts doubled on tickets in business class.
The idea of devolving the duty - recommended by the cross-party Silk Commission - was not included in the Wales Bill currently making its way through Parliament.
But Cardiff Airport chairman Lord Rowe-Beddoe tabled an amendment to the bill in the House of Lords last week calling for the devolution of air passenger duty on all flights.
'Selective subsidies'
Mr Sinclair said he was concerned Cardiff Airport would have an unfair advantage if the Welsh government was given the opportunity to cut or abolish the duty, resulting in cheaper flights.
"The argument that Bristol Airport and Cardiff Airport do not compete is disingenuous," he said.
"The two airports are less than 100km apart. Bristol is as convenient as Cardiff for many people who live in south east Wales, and we currently serve 25% of the market for air travel for the entire country.
"This is not about England versus Wales, it is about the market deciding where airlines wish to operate and passengers voting with their feet.
"Selective subsidies or tax systems which favour one government-owned airport over privately operated competitors are not only unfair, they are a waste of taxpayers' money."
Bristol's elected mayor George Ferguson has told BBC Wales that Cardiff and Bristol should avoid competing in every area in favour of working together as a Severn region, fighting competition from cities in northern England for investment.
Mr Sinclair's comments came as provisional figures showed a 7% drop in year-on-year passenger numbers in September at Cardiff Airport, following an 8% fall in August.
The airport's managing director, Debra Barber, said the "slight dip" in passengers was expected because of "airline fleet changes, which are not unusual in the industry".
The Conservatives said the airport, bought by the Welsh government last year, would be better off outside the state sector.
Shadow transport minister in the assembly Byron Davies said: "The sooner Cardiff Airport is returned to private ownership, to encourage private sector investment to help ensure its future, the better."