Poor pupils 'lag behind' rest of UK in school results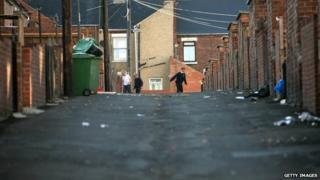 Poor pupils in Wales "lag behind" those elsewhere in Britain, according to the UK government's social mobility and child poverty commission.
It said only 26% of Welsh children who receive free school meals achieve five good GCSEs compared to 38% in England.
The commission said nearly half of three-year-olds in deprived areas were failing to make the expected progress.
It called on the Welsh government to introduce a measure of "school readiness" for five year olds.
Early years
Chaired by former Labour cabinet minister Alan Milburn, the commission's annual report highlighted differences in achievements of poorer children across the UK nations.
Entry rates to higher education in Wales were 35.3%, five percentage points lower than England and 10 percentage points lower than Scotland, the report noted.
Recommendations for Wales included:
A measure of "school readiness" of children at the age of five
Programmes designed to allow a more rigorous evaluation of their impact
Increased focus on numeracy and literacy within childcare provision
Improved data collection on progress of young children in the foundation years
However, the Welsh government's Flying Start programme was praised for continuing "to make an impact on families in the most deprived areas of Wales".