Drop 'rather vindictive justice' system says Paul Silk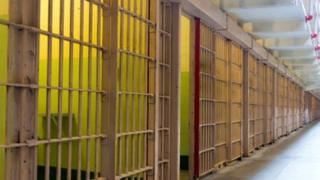 Wales should be able to ditch "rather vindictive criminal justice" policies and cut the prison population, says the man who headed a commission on devolution.
Paul Silk said prisoner numbers in England and Wales had risen from below 40,000 in 1985 to almost 90,000.
In March, the Silk Commission said elements of justice should be devolved in Wales, and other parts could follow.
Currently, large numbers of Welsh prisoners are held in jails in England.
Mr Silk was giving a lecture in Usk, Monmouthshire on Thursday night.
He said it was "quite conceivable" that a Wales with different penal policies might be better able to cope with its prison population.
Mr Silk held up the Netherlands as an example of a country that had made a presumption against custodial sentences.
'Smaller, local prisons'
"I personally would like to see a Welsh government empowered to make a similar choice and to diverge from the rather vindictive criminal justice policies that have seen prisoner numbers increase in England and Wales from under 40,000 in 1985 to almost 90,000 at the latest count," he said.
"There are currently around 148 persons imprisoned per 100,000 population in England and Wales, compared with 98 in France, 82 in the Netherlands, and 79 in Germany."
"If a different penal policy were able to be adopted in Wales, a possible future is therefore quite conceivable where Wales will have a more than adequate custodial provision - perhaps with smaller, local prisons more widely distributed," he added.
The comments came as the Conservative leader in the assembly took a different view on Friday, stating that he saw "no evidence" that devolving policing or justice would benefit Wales.
Andrew RT Davies was speaking ahead of a party policy forum being held at the weekend.
The Welsh Labour government, Plaid Cymru and the Liberal Democrats have all backed the recommendations made earlier this year on the issue by the Silk Commission.