Wine and Welshcakes mark 50 years of Welsh Secretaries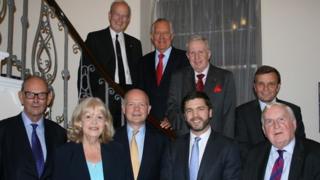 Is there a collective noun for secretaries of state for Wales?
Nine of the 17 politicians to have held the post turned out at Gwydyr House tonight for a reception to mark the 50th anniversary of its creation after Harold Wilson's election victory in October 1964.
Peter Hain, Paul Murphy, Cheryl Gillan, William Hague and David Jones rubbed shoulders with their predecessors Lords Hunt, Morris and Crickhowell at a reception hosted by the current secretary of state, Stephen Crabb.
The only absentees among those still living were Ron Davies, John Redwood and Alun Michael. Junior ministers from the days when what was known as the Welsh Office ran Wales were among the guest enjoying wine and Welshcakes.
Labour's Win Griffiths, Jon Owen Jones and Tories Nicholas Bennett, Jonathan Evans and Mark Robinson looked around their old offices. Lord Hunt of Wirral, Paul Murphy and Peter Hain are the only three politicians to have done the job twice (you'll thank me in a pub quiz one day). David Hunt returned briefly after John Redwood's resignation to fight John Major for the Tory leadership.
William Hague's two years in the job came between John Redwood and Ron Davies - "it just shows what contrasting figures we have as secretary of state for Wales," the former Tory leader told me.
He reflected on "very fond personal memories" of his time at the Welsh Office, where he met his wife Ffion. He was one of the last pre-devolution secretaries of state: "Everything that is now done by the Welsh assembly was in the hands of the secretary of state, and that was a big range of responsibilities."
His arrival was not universally welcomed - Labour MPs boycotted his first question time. He recalls: "There was a bit of a fuss at the beginning and I remember arriving at Newport station on my first visit and being asked, 'Mr Hague, what is it like to be the fourth Englishman to be secretary of state for Wales?'.
"And I said: 'I'm not the fourth Englishman, I'm the first Yorkshireman and that is quite different'. And I still like to think it is different because there is an affinity between Yorkshire and Wales. I think it's easier for somebody from Yorkshire to understand what's going on in Wales than it is perhaps for somebody from the south of England."
John Morris was secretary of state under the Wilson and Callaghan governments between 1974 and 1979. He recalled "sheer hard work" running Wales and trying to run the first devolution campaign in the run-up to the 1979 referendum.
I asked him what future he saw for the job in the age of devolution. His reply was succinct: "None whatsoever". He added: "The next prime minister of whatever party will have to consider what to do with the Scottish Office and the Welsh Office. The reality of it is it's not a job for a cabinet minister."
Scrapping the job or merging with its equivalents in Scotland and Northern Ireland has been considered under both Tony Blair and David Cameron. Both ultimately decided against it (although it was part-time under Mr Blair). With more powers due to be transferred to Cardiff and Edinburgh I wouldn't put the mortgage on the job still being around for centenary celebrations in 2064.