Christine Chapman feels 'cheated' over smacking ban plan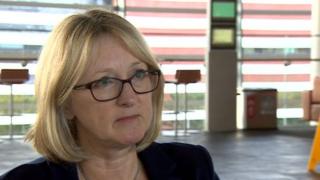 A supporter of a smacking ban on children said she feels "cheated" after it emerged the law would not be changed before the 2016 assembly election.
Labour AM Christine Chapman backed the Social Services Bill after assurances smacking would be looked at, but it has not been added to the Bill.
AMs have symbolically voted in favour of a ban in the past.
But the Welsh government said a cross-party committee is being set up instead to decide when the ban will come in.
While backbencher Ms Chapman welcomes the move she feels it should come in sooner.
"It's a good piece of legislation and we should take these opportunities while we can," said the Cynon Valley AM.
"It's one of those issues... if we as an assembly are saying that we really want to protect children - we respect their human rights - then this is absolutely fundamental to that.
"There's a level of maybe some hypocrisy about it. We're all proud of our record, but come on, we need to do something."
She added: "There's a lot of evidence out there that shouldn't worry the government but which should encourage them to make the final step."
'Cheated'
Asked if she felt cheated over backing the Bill, Ms Chapman replied: "I do."
She added she will work with others to try to amend the Domestic Violence Bill and use it as a vehicle to take away the defence of reasonable chastisement.
But she also called on the Welsh government to allow the Labour group to have a free vote on the issue, and confirmed she had heard a symbolic walkout of the assembly has been considered.
Gwenda Thomas, deputy minister responsible for the Social Services Bill, said the time has come for legislation to protect the rights of children.
Asked how she would feel if the law is not changed before the assembly election she said; "For me personally it would be disappointing. I absolutely believe in children's rights.
"They are individuals with rights just as we have."
A Welsh government spokesperson said: "We want to see progress on this issue and we are currently working on the establishment of a cross-party committee to establish how a future Welsh government may be able to legislate in this area.
"We will continue to seek culture change through promoting positive disciplinary alternatives to physical punishment."