MPs in Wales must 'work harder' after UKIP win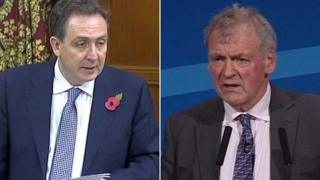 Welsh MPs say they must work harder to earn voters' trust following UKIP's success in an Essex by-election last week.
Conservative Glyn Davies and Labour's Nick Smith agreed the electorate feels taken for granted.
UKIP's first elected MP, former Tory Douglas Carswell, won at Clacton-on-Sea with a majority of 12,404.
Mr Davies and Mr Smith said voters felt frustrated and let down by the main parties.
"It was a terrific victory for Douglas Carswell, he's obviously been a very assiduous MP, he's very popular," Mr Davies, MP for Montgomeryshire," told BBC Radio Wales.
"What they're (the voters) saying, and I think it is to all three of the main parties, is we're not using the language that engages them, they're feeling frustrated... they're voting for another party."
MP for Blaenau Gwent Mr Smith agreed, adding: "I think people do feel fed up and let down... they want real answers on the issues of wages, the NHS, trying to improve our economy... we've got to work much harder to try and get our message over."
"We have to earn people's votes," Mr Smith said.
Mr Davies added: "My own view is that when you get to a general election it'll be much more of a focus on what you can do, what are you in favour of, what are your positive policies, whereas I feel at the moment UKIP's attraction is what they're against.
"I don't know what anything UKIP are for, I know they're against on certain things and that chimes sometimes with people's feelings."
On Sunday, Mr Carswell told the Andrew Marr Show the Tories are "defunct" and are "against change".
"The way the Tory party is retailing politics is like the way HMV retailed music - it's defunct."
UKIP has already said it plans to open an office in the south Wales valleys.
UKIP Welsh MEP Nathan Gill predicts the party's current momentum can carry them to victory in at least one Welsh seat next May.