Council leaders question school funding protection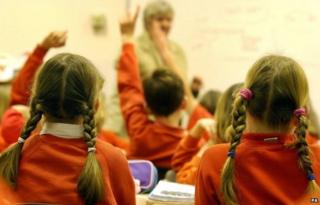 Local council leaders have questioned a Welsh government policy to protect funding for schools.
The policy stems from a pledge First Minister Carwyn Jones made when he ran for the Welsh Labour leadership in 2009.
On Wednesday, Steve Thomas, chief executive of the Welsh Local Government Association (WLGA), warned the strategy leads to much deeper cuts elsewhere.
Ministers are preparing to announce next year's funding for each council.
The amount local authorities spend on schools is supposed to be at least 1% above changes to the Welsh government's block grant from the UK Treasury.
For example, were the block grant to increase by 2%, school spending should increase by 3%.
If the grant were to fall by 2%, the budget for schools should only fall by 1%.
'Our duty'
Mr Thomas warned that protecting some budgets means other services carry a bigger burden of cuts, particularly non-statutory services - such as leisure centres and libraries, which councils are not legally obliged to provide.
He told BBC Radio Wales' Good Morning Wales programme: "Are we going to be talking about that [protected schools funding] in the next assembly term?
"If we are talking about it in the next assembly term it's going to be a problem.
"And we need to open up this debate about what we want public services to look like, because these effects of huge protections on the larger services are having a massive vice-like effect on smaller services - and we are going to lose those smaller services if it continues."
Gwynedd council leader Dyfed Edwards told the programme: "We are looking at education, and we are looking to see what we can do in terms of making any savings in that area, without drastically affecting the offer for children and young people. It's our duty to do that.
"The choice is either we try and reduce budgets gradually that way or we just say overnight we are stopping all leisure services, all library services and similar non-statutory services and we won't operate at all."
"I'm not prepared to do that, I don't think that's the right way to go forward," Mr Edwards added.