Nicola Yeates and Raymond Williams banned for unsafe school bus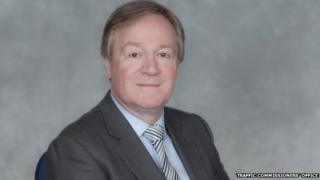 Children were driven to school on a bus which had a problem with its brakes and a broken seat-belt, a hearing was told.
A "lack of priority" was given to the safety of young children on the bus, Cardiff Magistrates Court heard.
Nicola Yeates, trading as NJY Travel in Varteg, Torfaen, had her operator's licence revoked after the inquiry.
Her partner Raymond Williams, who it was heard ran the company, was disqualified indefinitely from acting as a transport manager.
The Traffic Commissioner for Wales Nick Jones said the failings of Ms Yeates, who works for Monmouthshire council, led to an "appalling state of affairs".
In a written decision, he said: "Parents of children carried by Nicola Yeates's vehicles will be aghast at the lack of priority afforded to the safety of young children."
A Torfaen council spokesman said: "The council has suspended the company from operating on any of our contracts until further notice and put alternative provision in place."
'False records'
At the inquiry, Ms Yeates admitted she did not think her former transport manager had been maintaining the vehicle, but still allowed it to go out on the road and collected money from school contracts.
Evidence from the Driver and Vehicle Standards Agency (DVSA) revealed that the vehicle had been stopped at a primary school with multiple defects, including a broken seat-belt and a problem with the brakes.
Records showed the vehicle had not had a routine safety check for 13 weeks, despite the operator committing to inspections every four weeks.
The commissioner concluded that Mr Williams prepared false records showing brake efficiencies in an attempt to deceive any enforcement body checking them.
Ms Yeates revealed a "wholesale lack of knowledge of interest", said the commissioner, and had no real role in the business other than having her name on the licence.
Mr Jones concluded that Ms Yeates got a licence for her partner, who had been involved in a previous licence, B A Motors Ltd, which was revoked in 2002.
Ms Yeates was banned indefinitely from holding or obtaining an operator's licence.