New planning measures to simplify and speed up process unveiled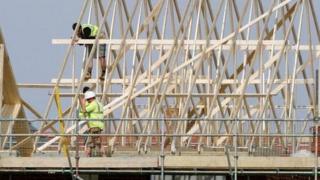 Measures aimed at simplifying and speeding up the planning process have been published in a new bill.
The Planning Bill gives Welsh ministers powers to decide on applications for developments deemed to be of national significance.
It also aims to establish a more consistent system across Wales' planning authorities.
Minister Carl Sargeant said: "I'm delighted to introduce this landmark bill, the first of its kind in Wales."
Moves to change the planning process are aimed at addressing concerns that it can be too complex, too slow and inconsistent.
The Welsh government says its bill will "strengthen and modernise" the planning process so it helps to boost the economy and deliver "the homes, jobs and infrastructure that Wales requires".
It also seeks to strengthen the enforcement process if there are breaches of planning rules.
Ministers could also have the power to merge planning authorities.
There are 25 local planning authorities in Wales - 22 councils and three national park authorities.
Mr Sargeant said he has made "no secret" of his belief that it is essential that the number of planning authorities in Wales needs to be reduced.
The draft Planning Bill was criticised by Welsh language campaigners for not including any reference to the Welsh language.
The Welsh government says it has published guidance which directs local authorities to consider the language when drawing up Local Development Plans.
The Planning Bill was presented to the assembly by Natural Resources Minister Mr Sargeant and is expected to become law in 2015.
"The introduction of this bill is the beginning of an exciting period for planning in Wales," said Mr Sargeant.
"Amongst the improvements that communities can look forward to are clarity on how and when to engage in the planning and consultation processes improved monitoring of local authorities and a refined appeals process that ensures greater fairness, transparency and speed."