Ministers should keep out of budget cuts, says Denbighshire leader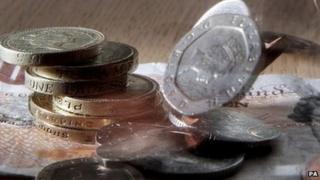 A council leader has called for Welsh ministers not to interfere in local authority budget cuts decisions.
Hugh Evans, leader of Denbighshire council, said statutory services should not be immune from cuts if there are ways to run them more efficiently.
"Give us the opportunity to do it on our own. Don't interfere is the message I would suggest to the Welsh government," he said.
The Welsh government said it was up to councils how they allocated resources.
Councils will find out on Wednesday what their budget for 2015/16 will be.
Previously, the council said the draft local government settlement indicated that it will have to make £8.5m in cuts.
Short-changed
Speaking on BBC Wales' Sunday Supplement, Mr Evans said the anticipated settlement will mean the Denbighshire authority will have to cut jobs.
"We've always driven budgets by safeguarding jobs and protecting frontline services; this level of cuts will not allow us to do that. There will be, sadly, redundancies.
"We'd like to be given the opportunity to make cuts in services which are essential by doing things in a different way."
He said the council will also look at introducing and increasing charges for services.
Mr Evans, the Welsh Local Government Association (WLGA) independent group leader, also said north Wales is being short-changed when it comes to spending on infrastructure projects.
"There's a projection over the next three or four years, roughly, about £1.4bn investment in south Wales and it's really concerning that in terms of capital investment that we're earmarked for £10m investment somewhere in north Wales and that's the message from the draft budget."
Connectivity
A Welsh government spokesperson said it was the responsibility of local authorities to "allocate resources in a way that best meets the needs of their residents".
"The draft budget 2015-16 set out how we will allocate £1.4bn of capital to deliver on our priorities and boost jobs and growth across the length and breadth of Wales," the spokesperson said.
"As part of this, we are providing an additional £10m to improve transport connectivity in north Wales, while we have already announced £12m in 2015-16 for safety improvements to the A55 Tunnels and £5m for the redevelopment of Ysbyty Glan Clwyd.
"North Wales will also benefit from the additional £32m investment in housing, £5m to promote green growth across Wales and £10m for the next generation broadband programme."