'Most difficult budget' since devolution, says Jane Hutt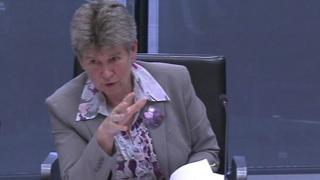 Next year's Welsh government budget has been "the most difficult" to set since the assembly's creation in 1999, Finance Minister Jane Hutt has said.
She also told the assembly's Finance Committee some of the NHS's extra £200m next year would come from reserves.
In Tuesday's draft budget, Ms Hutt announced the health service would receive an extra £425m over two years.
But Plaid Cymru said it was now clear most of the additional money would "bail out" health board overspends.
The minister told the committee she had delivered a "balanced budget, a fair budget and a budget which actually does meet proven evidence in terms of public service need".
"This is the most difficult budget I'd say that anybody, any government and any finance minister has had to set. Clearly there are winners and losers," she added.
Ms Hutt also revealed that the Welsh government has not yet allocated any specific funds in the budget to help councils that choose to merge following a call to halve the number of the authorities.
Last month, ministers urged local authorities to submit plans to merge voluntarily rather than be forced to, indicating funds would be made available to help the process.
Plaid Cymru accused Ms Hutt of "trying to bury" a bail out of health boards in the budget, a charge she denied.
Party finance spokesman Alun Ffred Jones said: "The finance minister has had to plough £200m into this year's budget in order to bail out the health boards.
"That money will only pay outstanding overspend - it will not be felt as extra funding.
"This means that the £225m that will be invested next year will only actually amount to comparatively little new money on top of this year's spending commitments," he added.