Health spending set for Welsh budget boost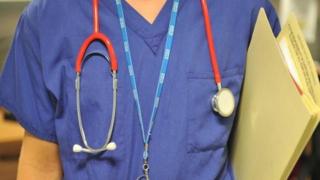 More money is expected to be spent on health in this year's Welsh government draft budget.
Ministers have already warned local councils they face cuts of up to 4.5%.
The Welsh Conservatives claim Labour has failed to protect the NHS, while Plaid Cymru says other areas are being cut to "bail out" health boards.
BBC Wales understands Labour has discussed the budget with the Liberal Democrats ahead of Tuesday's unveiling.
Deal needed
Without a Senedd majority Labour will need the support of another party to get the budget passed, with the Liberal Democrats the most likely option.
Last year both Plaid Cymru and the Liberal Democrats agreed to help the minority Labour administration get its budget through the assembly chamber in exchange for around £100m being spent on treating patients in the community rather than in hospital and on a scheme to help poorer school pupils.
It is expected that the budget for 2015-16 will continue with the priorities set last year when £570m extra was allocated to health over a three-year period.
Since that budget was passed, a report by the Nuffield Trust in April suggested the Welsh government's decision not to protect NHS funding back in 2011 may be responsible for longer waiting times.
Nick Ramsay, the Welsh Conservatives' shadow finance minister, said: "Labour ministers must avoid repeating their past mistakes of delivering the UK's worst funded NHS, which has heaped so much pressure on hardworking staff and driven down standards for patients."
Plaid Cymru finance spokesman Alun Ffred Jones accused ministers of cutting back "on almost all areas of serious expenditure in order to bail out the health boards".
He added: "The effect of this on local government funding is going to alarm the public, hit people's pay packets, and threaten services that we depend on."
'More difficult'
A year ago the amount of funding allocated to local councils fell by almost £200m - a cash cut of 3.91% - and there are fears similar cuts could happen again this year.
Steve Thomas, chief executive of the Welsh Local Government Association, warned it was getting harder for councils to find areas to make savings.
He said: "The low hanging fruit has gone, the easy stuff has been done and that was done five years ago - it's been getting more and more difficult."
Making cuts to the education budget will also prove difficult in light of First Minister Carwyn Jones's pledge to spend 1% more than the UK Treasury's block grant allocation on schools each year.
Finance Minister Jane Hutt will announce the budget in the Senedd on Tuesday afternoon, with approval required by the assembly by the end of the year.