Votes at 16 'needs more work,' children's commissioner says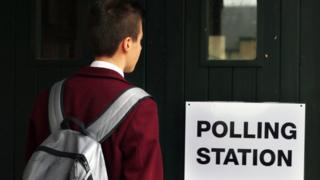 The voting age in Wales should be lowered - but more needs to be done before the change is made, says Wales' children's commissioner.
Keith Towler says he is in favour of the move provided there is the "political will" to have it in time for next year's general election
It should "certainly" be in place for the 2016 assembly elections, he says.
Sixteen and 17 year olds were allowed to vote in last week's Scottish referendum.
It was a decision that has prompted calls for the voting age to be lowered in other elections.
Mr Towler was speaking to BBC Wales' Sunday Politics show about the implications of lowering the voting age.
Asked if the necessary preparation was in place for the reform to be introduced now, Mr Towler said: "No, it isn't."
He added: "I think what we need to do is invest some real time in thinking through how we can equip young people to understand and be prepared for a decision to be made about lowering the voting age.
The commissioner said there needs to be "real good targeted work" at secondary schools, and a curriculum that prepares young people to "think this through really solidly, so they can exercise their vote in the right way".
The Welsh government currently has no scope to lower the voting age for an assembly election - that power lies with the UK Parliament.
'Maturity'
Aled Roberts, the Liberal Democrat AM for North Wales, believes 16 and 17 year olds should be given the vote.
He said: "They've got very definite ideas on a whole range of issues and more importantly we think 16 and 17 year olds are old enough to get married and fight in the armed forces.
"It seems a bit strange that we've got into this idea that you've got to be 18 to take part in the electoral process."
However, that view is not shared by Conservative AM Byron Davies.
"My fear is that if young people at the age of 16 do have the vote, it's a question of maturity in terms of their knowledge of politics and their experience of the world," said the assembly member for South Wales West.
"I'm not saying we can't have it, and given the issues that will come up now constitutionally given what's happened in Scotland, it's something we should consider.
"But I think we need to be very, very cautious in our approach to giving votes to 16-year-olds."
More on this story on Sunday Politics Wales, BBC One at 1100.