Newport M4 relief route faces legal challenge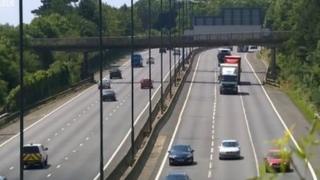 Plans for an M4 relief road south of Newport are facing a legal challenge from an environmental charity.
The so-called "black route" between junctions 23 and 29 goes through the Gwent Levels.
Friends of the Earth has asked a judge to consider if what it calls the "substantial damage to wildlife" involved is legal and if an alternative route was considered sufficiently.
Welsh ministers said they had not yet been notified of the judicial review.
Transport Minister Edwina Hart had said previously she was expecting such a legal challenge.
The £1bn scheme, announced in July, is the largest capital investment programme ever embarked upon by the Welsh government.
The favoured route was one of three options put forward for consultation last September.
A "blue route" was put forward as a cheaper fourth option three months later by transport expert Professor Stuart Cole.
It involved upgrading the A48 and a road through the Newport's former steelworks at a cost of £380m.
It is understood that this route was considered as part of the final decision making process.
On Tuesday, Friends of the Earth Cymru director Gareth Clubb said the motorway would cause "massive damage to important and protected wildlife".
"We think the Welsh government has acted unlawfully, and there are better transport options they've not properly considered.
"Whether it's because of the huge expense, the better transport alternatives, or the environmental damage, many thousands of people in Wales are against this unnecessary and unaffordable road."
The Welsh government said in a statement: "It is disappointing when organisations advise the press in the first instance about their intentions.
"We have yet to receive notification of a judicial review."
Conservative Shadow Transport Minister Byron Davies warned delays building the new motorway would damage the Welsh economy.
"We must ensure the right route is selected with careful consideration of environmental concerns, while transparency in the decision-making process is critical," he said.
"Every additional day that this project is delayed means a rise in costs and represents a continued barrier to economic growth."