Miliband warns of Tory 'England versus Wales' tactic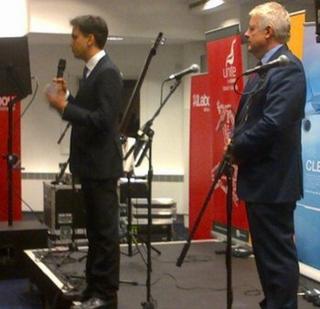 I've just been to "Welsh Night" on the Labour conference fringe.
Once described by Paul Flynn MP as "a booze-up, a sing-song and a raffle" it has changed from its 1980s heyday. The Hennessys have replaced the male voice choir, although Welsh Labour chair Andy Richards and shadow Welsh Secretary Owen Smith did throw in a few "comrades" to introduce a little nostalgia.
Ed Miliband said that of all the conference receptions this was his favourite - a joke he repeats each year.
He used his speech to praise the Welsh party faithful and to warn that the prime minister will use the fall-out from the referendum on Scottish independence to try to set the nations of the United Kingdom against each other.
His comments followed the emergence of differences over how to deliver the cross-party promise to transfer more powers to Scotland, with Mr Cameron insisting that change must be in tandem with change to the voting rights of non-English MPs at Westminster.
Mr Miliband: "We know what we're going to see in the next few weeks and months from David Cameron and others which is to try to set each nation of our country against each other. So it'll be England versus Wales versus Scotland. That is their tactic.
"First of all they tried to divide people on benefits from people in work, then people in trade unions from people not in trade unions, people in the private sector from people in the public sector and now it's somehow about setting up against each other when we've spent two years keeping our United Kingdom together.
"Colleagues, we will not put up with it because we know that working people face injustices right across our United Kingdom and it's a Labour government that will deal with those injustices."
Looking ahead to his speech on Tuesday, he said the central argument of the general election campaign would be: "does a country work for a few people at the top or does it work for hard-working people - that is the question of this election."
Mr Miliband praised First Minister Carwyn Jones for being "ahead of the curve" in coming up with the idea of a "constitutional convention" to look at the future of the UK. The Labour leader has said that if he wins the general election, the convention will meet in October next year.
"It's got to be a constitutional convention that is led by the people and not a Westminster stitch-up. It's got to be done in the right way."
Mr Miliband then left for another of his favourite receptions before heading for a near-empty conference hall at 10pm to rehearse his big speech. And the Hennessys played on.