Powers for English regions 'better fit', Carwyn Jones says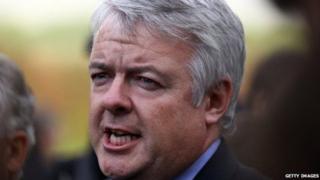 Giving more power to the regions of England is the answer to the future of the UK, Wales' first minister has said, after Scotland rejected independence.
Carwyn Jones said it was a "better fit" than a policy of "English votes for English laws" in the UK Parliament.
Wales Office Minister Alun Cairns has said that Welsh MPs could face different voting restrictions at Westminster than Scottish MPs.
But Mr Jones said there needed to be clarity on who runs what across the UK.
Speaking to BBC Radio Wales on Saturday, he said it would be "immensely complicated" to determine which laws only applied to England.
"Why have an institution in Westminster that sits as three of four different parliaments according to what's before the members there? I don't think that works particularly," he said.
"It's either a parliament where all the MPs are equal or it's not."
'Huge resource'
Mr Jones also repeated his call that Wales should be given a "fair share of the pot" in Treasury funding for the various UK nations under the so-called Barnett formula.
He also called for powers over energy policy, as enjoyed by England, Scotland and Northern Ireland.
"Energy is a huge resource in Wales, particularly marine energy that could create jobs in Wales and we can't do it," he said.
"Scotland is able to throw a lot more money at marine energy even though our circumstances, our sea, is far better in terms of the opportunities that it offers.
"That's one way in which we could create jobs for people - we could have more manufacturing of the kit that generates the energy.
"We can't do that at the moment."
Prime Minister David Cameron has promised that Wales will have a bigger say over its affairs while proposing that non-English MPs will be prevented from voting on laws only affecting England.
But Wales Office Minister Alun Cairns said there could be different arrangements for different sets of MPs.
The Vale of Glamorgan MP said: "We are a family of nations and the model for Scotland isn't necessarily the right model for Wales.
"We don't have to be hamstrung by the model that is going to fit Scotland.
"Therefore the solution between the influence of MPs will be different, and that's the detail that needs to be worked through."
His Conservative colleague David Davies, MP for Monmouth, added his voice to the debate, telling BBC Wales on Saturday that it was "wrong and divisive" for Welsh and Scottish MPs to have the ability to vote on matters that only related to England.