Carwyn Jones pays tribute to Scotland's Alex Salmond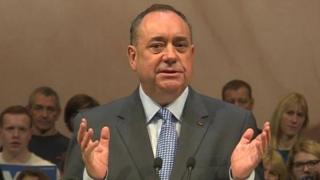 Wales' first minister has paid tribute to Alex Salmond, who is resigning as leader of the Scottish National Party (SNP) and Scotland's first minister.
Carwyn Jones said he would "leave a large gap in Scottish politics" and they had "got on well at a personal level" despite political differences.
Plaid Cymru leader Leanne Wood said Mr Salmond had "done himself and his country proud" as a "strong leader".
Mr Salmond is stepping down following the "No" campaign's referendum victory.
Scottish voters backed Scotland staying in the UK by 2,001,926 votes (55%) to 1,617,989 (45%) in Thursday's poll on Scottish independence.
Mr Jones described Mr Salmond as an "astute politician" who was a "passionate leader of his party and the Scottish government".
"I wish him well in the future, and look forward to working with his successor," he said.
Ms Wood said the departure of a leader who had "achieved so much for his party and for the people of Scotland" was "very sad news" for the Scottish nation.