Council voluntary merger plans are urged by ministers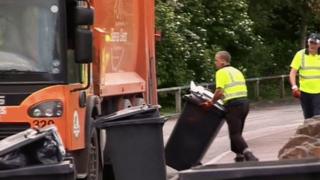 Local councils across Wales are being urged to submit plans to merge voluntarily, rather than be forced to.
The Williams Commission recommended the number of local authorities should be reduced from 22 to 10 or 12.
New Public Services Minister Leighton Andrews said that by leading their own mergers councils could "shape their own reform" and give "greater certainty".
Voluntarily merged councils could be up and running from 2018, two years earlier than the others, he said.
On Thursday, Conwy council voted to open talks with Denbighshire council over a possible voluntary merger.
Issuing a document explaining to councils how a voluntary merger would work, Mr Andrews said: "Authorities whose voluntary merger proposal is taken forward will be fully up and running two years in advance of others, and will therefore provide certainty for the public and their staff much earlier.
"They will lead and shape their own reform and realise the opportunities for efficiencies and transformation of services more quickly.
"Local authorities will retain locally any savings generated by the voluntary merger process."
Mr Andrews is asking for responses by the end of November.
The former education minister returned to the cabinet last week, 15 months after resigning in a row over his defence of a school in his area which faced closure under his own policy.