Student hardship fund cut is delayed by ministers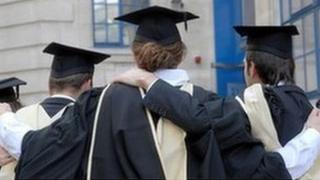 Plans to cut a student hardship scheme's funding have been delayed by a year by the Welsh government.
Ministers said universities will lose the £2m a year they receive to run the Financial Contingency Fund (FCF) next autumn, rather than this academic year.
Education Minister Huw Lewis said the institutions should use their "substantial" income to set up their own discretionary hardship funds.
The delay to the cut was welcomed by the National Union of Students (NUS).
Mr Lewis said ministers had "listened to stakeholders" and decided to "reinstate the fund for this year only".
"I think it is appropriate that from academic year 2015-16 universities should establish their own discretionary hardship funds, and we will be discussing options with students and institutions," he said.
He argued support in Wales for students in higher education was "still the most generous package offered by any of the UK administrations" but insisted it was time "for individual institutions to assist with some of the heavy lifting".
The delay will give universities more time to get their own hardship schemes in place.
'Speedy action'
NUS Wales President Beth Button said ministers had "responded to the strength and depth of student feeling" on the issue.
"This hardship fund has been a vital lifeline of support for students, and the decision to scrap it just weeks before the start of the academic term risked leaving many in dire financial straits," she said.
"It is to ministers' credit that when they realised that their initial decision was wrong, they took speedy action to correct it and put money back in the pockets of students who need it in order to continue to study."
The average pay-out to students who are successful in applying to the FCF is about £400.