Plaid Cymru makes living wage general election pledge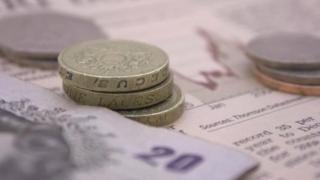 Plaid Cymru said it would push for a living wage for all UK workers by 2020, as it announced its first key pledge for next year's general election.
Plaid MP Hywel Williams said the policy would benefit 250,000 workers in Wales.
The living wage, currently £7.65 an hour outside London, is an estimate of basic living costs and is promoted by the Living Wage Foundation.
Plaid said the minimum wage, now £6.31 for most workers, should rise to the higher level over the next Parliament.
The minimum wage for workers aged under 21 and apprentices is lower.
Mr Williams, the MP for Arfon, said his party believed "nobody in Wales should be paid less than they need to live upon".
"That is why we pledge to give more than 250,000 Welsh workers a pay rise, by making the living wage a key commitment for the 2015 general election campaign," he said.
"Currently the UK government subsidises big business to pay poverty wages, by setting the minimum wage too low and then topping them up with tax credits to enable people to afford basic provisions."
"By raising the minimum wage to be in line with the living wage, we will be able to raise living standards and boost local economies as people will have more money in their pockets to spend," Mr Williams added.
Minimum wage rates are due to rise next month, when workers aged 21 and over will be legally entitled to receive at least £6.50 an hour.