Former Welsh secretary Ron Davies backs Scots Yes vote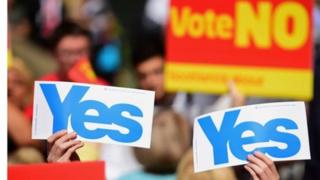 A former Welsh secretary has said he would vote Yes in the forthcoming referendum if he lived in Scotland.
Ron Davies, who led the 1997 referendum campaign in Wales, said the Yes campaign had a "fighting chance" of winning next Thursday.
He called it the "most exciting" campaign of his generation.
The former Labour MP resigned in 2001 after an incident involving a stranger at Clapham Common, London, in October 1998.
He went on to resign from the party in 2004, became an independent councillor in Caerphilly and then lost his seat as a Plaid Cymru candidate in the 2012 local elections.
Ahead of the independence vote on 18 September, Mr Davies told BBC: "I think that's a great thing for British politics that people are involved, and able to cast their votes in a way which will help to determine their own futures."
He said a Yes vote in Scotland would be the best outcome for Wales.
"(It) would open up British politics in an entirely new way and it would give a sense of hope and meaning to people who want to work for the better," he said.
'Language burden'
"Also it would mean that the British government, minus Scotland, would have to reassess what it's doing, and would want to create new relationships, and I think would want to see far greater partnership then with Wales."
However, Mr Davies said the Scots did not have a language issue, like Wales.
"They don't have, and I use the word advisedly, the burden of the Welsh language, which has in many ways perverted the course of politics in Wales because people have taken a view about the Welsh language," he said.
"And there's that automatic link between Plaid and the Welsh language and that's something that we in Wales have to work through."
The latest poll suggests the "No" campaign is leading by 52% to 48% in the Scottish independence referendum.