MP Guto Bebb challenged on website bullying claim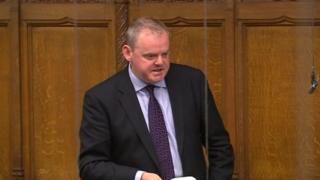 A solicitor said by Conservative MP Guto Bebb to be behind a "poison pen blog" has challenged him to repeat his allegation outside Parliament.
Dylan Moore denied the claim and criticised Mr Bebb for using the protection of parliamentary privilege to make the allegation.
On Tuesday, Mr Bebb said the website was traced to a home in Deganwy and David Jones Solicitors in Llandudno.
Mr Moore is the business partner of Clwyd West Tory MP David Jones.
Mr Jones has also denied any involvement in the authorship of the "Thoughts of Oscar" blog, which has since been closed.
On Tuesday, Aberconwy MP Mr Bebb said a private investigator had found out who was responsible for a website that had "harassed, abused and bullied" people.
Mr Bebb said it was "a rather vicious and nasty local blog", with an added interest in politics, that had targeted individuals.
Opening a short debate in the Commons, Mr Bebb named local businessman Nigel Roberts and Mr Moore.
Mr Bebb said he would not name a third person identified by the private investigator.
But Mr Roberts said on the blog that he was its sole contributor.
'Bitchy backbiting'
Responding to Mr Bebb's claim in a statement on Wednesday, Mr Moore said that the "allegation that I am in any way, or have ever been, involved in the Thoughts of Oscar blog or, indeed, any other blog is completely untrue".
He added: "I invite Mr Bebb to make the same allegation outside Parliament.
"The author of the blog (Mr Nigel Roberts) issued a statement (prior to Mr Bebb's speech) making it clear he was its sole author. I note Mr Bebb made no reference to that matter in his speech.
"Those who know me - family, friends and clients - know full well that the allegation is nonsensical. It is well known locally that I do not tweet, text or use a mobile phone.
"I have no interest whatsoever in local politics or the bitchy backbiting that appeared to take place on this blog."
Mr Moore said the MP had not responded to messages he had left for him.
"I am appalled that any Member of Parliament, let alone my own MP, should throw an innocent constituent to the wolves in this way and hide under the cloak of parliamentary privilege," he added.
'Rabble'
Earlier on Wednesday, former Welsh Secretary Mr Jones made his own statement.
"Yesterday evening, under conditions of Parliamentary privilege, Guto Bebb MP made allegations as to the authorship of an internet blog known as Thoughts of Oscar," he said.
"To address any perceived ambiguity in Mr Bebb's address to the House, I wish to make it clear that I was not involved in the authorship of the blog.
"I understand that the blog's true author had already admitted, prior to Mr Bebb's appearance in the House, that he had acted alone."
Labour's Shadow Welsh Secretary Owen Smith said the people of north Wales "deserve better than this infighting".
"At a time when the UK needs politicians to show unity, maturity and a sense of purpose, we are witnessing the Welsh Tories descending into a rabble."
North Wales Police said officers are due to speak to Mr Bebb this week to establish the "full nature and background of his concerns".
Deputy Chief Constable Gareth Pritchard said: "We have examined our systems and have ascertained that since 2009 there have been six complaints about postings on the Thoughts of Oscar blog, but none amounted to a criminal offence. Appropriate advice was given to the complainants."