Council leaders in Wales demand urgent cuts debate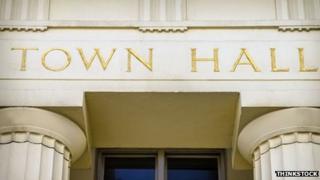 Every county council leader in Wales has called for an urgent debate on budget cuts, claiming the country faces a "growing financial crisis".
The Welsh Local Government Association (WLGA) claims the 22 councils need to save £900m by 2018 from their budgets.
A letter signed by all the council leaders has been sent to assembly members, the Commons and European Parliament raising concerns.
The Welsh government said councils should be planning cuts carefully.
Local Government Minister Lesley Griffiths has told councils to prepare for funding cuts of up to 4.5% next year, which follows an average cut of 3.5% in Wales this year.
Calling for an urgent debate, WLGA leader and Torfaen councillor Bob Wellington, said that unless austerity measures were addressed, "leisure centres will close, libraries will shut, day centres will be depleted and there will be significant levels of job losses".
He added: "Council budgets in Wales are now constrained to the extent that we will soon reach a tipping point."
A Welsh government spokesperson said: "The Welsh government has protected local government in Wales from the worst of the public spending cuts, in contrast to the deep cuts faced by councils in England for the past four years.
"However the cuts to the Welsh government budget mean we now cannot avoid reductions in funding having an impact on local government.
"No one should doubt the high value Welsh ministers place on public services.
"Local authorities should have been planning to manage these reductions in a way which limits the impact on those who depend most on these vital services."