Tanks, world leaders and international reporters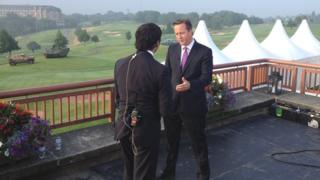 Where the President of the United States goes, hordes of journalists follow.
The world's press corps has hunkered down in a vast media centre, spread over two floors at the Celtic Manor.
Getting here involves a multi-stage journey through the ring of steel.
I've lost count of how many times I've shown my security pass or how many British police forces are represented here.
Once inside the media's temporary home, someone is determined to remind us where we are.
Bags full of Welsh goodies are being handed out.
Inside, journalists will find souvenir chocolates, sea salt and whisky - all from Wales.
If whisky is too strong, there's a stall outside selling Welsh cider.
Frankly, most of the hacks seem more interested in the coffee machines and the wifi code.
When the wifi stops working, they can dip into a book of 101 facts about Wales, supplied as part of their souvenir kit.
Although I'm not sure that Number 49 ("Are there little green men in Wales?") counts as a fact.
The Welsh government is hosting a reception tonight for journalists - part of an attempt to ensure Wales makes the most of its moment in the spotlight.
Most of the media are huddled in front of their laptops, a short golf buggy ride away from the main hotel building where the summit proper is taking place.
Apart from the occasional invitation to a photo opportunity or pre-arranged interviews, the politicians and press are separated by a golf course.
And on that golf course Nato has parked its tanks and fighter jets. A reminder, as if we needed one, of what this summit is all about."