Nato summit momentous in Wales' history, says Carwyn Jones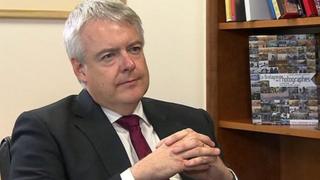 First Minister Carwyn Jones says next week's Nato summit in Newport will be a "momentous occasion in the history of Wales".
And he said it was important Wales built on the world's focus on the nation after the event to help business investment and tourism.
He made the comments at a reception at the Foreign Office in London for businesses and overseas media.
Welsh Secretary Stephen Crabb called the summit "historic" for Wales.
"Never before on British soil has there been such a large gathering of international leaders," he added.
"Politically it is one of the most significant summits ever to take place in Europe," he said.
The pair addressed about 200 guests at the event on Thursday to showcase Welsh business, education and tourism in the build up to the summit next Thursday and Friday.
Mr Jones added: "We will be at the centre of world affairs next week but it is absolutely crucial that we are able to build on that as we look to the future.
"I look forward to this being a momentous occasion in the history of Wales and one that we must build on in the future."