Wales' tory leader talks of bare-knuckle boxer father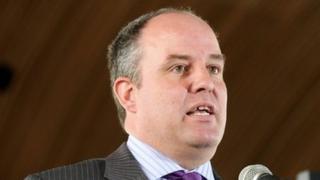 As the leader of the Welsh Conservatives, he is used to slugging matters out in the Senedd chamber.
But Andrew RT Davies' career path is in sharp contrast to that of his father, who was a bare-knuckle boxer.
Mr Davies told BBC Radio Wales his father, Tudor, left school at 14 without "two brass farthings to rub together".
He said his father worked to buy a farm in the Vale of Glamorgan and how he hoped to return to the industry.
Speaking on the Jason Mohammad show, Mr Davies said about his father: "He travelled down from mid Wales to south Wales, doing a bit of bare-knuckle boxing and stuff like that, he used to work on the fairs as well.
"We come from, I'm quite happy to say this, quite a humble background and through his hard graft and luck in some instances he was able to acquire a farm in the Vale of Glamorgan, and we have had the good fortune then to be able to continue to grow that business."
The South Wales Central AM also said he eventually hoped to return to the "family business" of farming.