Liberal Democrats promise fairer funding deal for Wales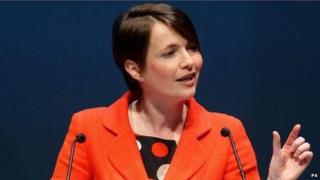 Wales could benefit from hundreds of millions of pounds under Lib Dem plans to change the way funds are allocated to devolved nations, it has been claimed.
The current system, known as the Barnett formula, is based on population levels and has long been criticised for short-changing Wales.
Suggestions to re-draw the formula have been fiercely resisted in Scotland.
New Liberal Democrat plans say Wales should instead get top-up payments.
In 2009 an independent Welsh government-appointed commission estimated the annual shortfall was around £300m, although some MPs have suggested the current figure is lower.
The latest pledge to address that gap will be part of a Liberal Democrat "pre-manifesto", published next month, which will form the template for the party's pitch at the general election in May.
Sources within the party believe the policy could be a key Liberal Democrat demand in any future coalition talks after the General Election.
Kirsty Williams, leader of the Welsh Liberal Democrats, said: "My party not only recognises that Wales is underfunded, but we will actually do something about it.
"This is about Wales getting a fairer deal and we believe this is the best way forward for that to happen. Our communities and public services are being denied the money we are entitled to."
Lib Dem Schools Minister David Laws, who writes the manifesto, said the proposals aimed to deliver the extra funding for Wales within the next parliament.
A Welsh government spokesperson said: "We have long been of the view that the Barnett formula itself does Wales no favours and we are pushing the UK government for reform of the formula, particularly in the context of devolution of tax powers to Wales."
A Wales Office spokesperson said the UK government had increased the Welsh government's spending by nearly £800m since the 2010 spending review.
"Under the Wales Bill we are also committed to devolving new tax and borrowing powers to Wales, enabling the Welsh government to be accountable for more of the money it spends and providing it with further tools to grow the Welsh economy," the spokesperson added.