£1.25m for new Welsh language centres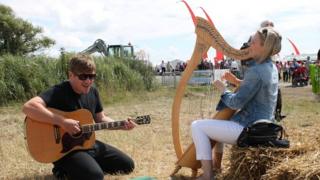 New Welsh language centres are to be opened with £1.25m of Welsh government funding to encourage more people to learn and use the language.
The cash comes on top of £1.6m already pledged in June to support the use of Welsh in business and the community.
First Minister Carwyn Jones said the centres would help create opportunities for people to speak Welsh.
The money will go to councils, colleges and universities to develop the centres as focal points for the Welsh language.
"These dynamic language spaces will enable people to engage and interact with the language and will also act as community hubs," said Mr Jones.
"There will be a strong emphasis on partners working together for the benefit of the wider community."
It is the latest in a series of measures aimed at supporting the Welsh language, and comes after the 2011 Census showed a decline in the number of Welsh speakers in some of its strongholds in mid and west Wales.
Despite the additional investment, campaigners say Welsh government investment in the Welsh language is "pitiful".
WELSH LANGUAGE FACTFILE
19% of the Welsh population said they were able to speak the language, according to the 2011 Census
Gwynedd has the highest percentage of residents who said they can speak, read and write in Welsh - 65,900 people (56%)
In Carmarthenshire, 43.9% of the population said they could speak Welsh in 2011, down from 50.3% in 2001 and 54.9% in 1991
In Ceredigion it was 47.3% in 2011, down from 52% in 2001
In Cardiff, 11.1% of the population said they could speak Welsh in 2011, a 0.1% increase
Blaenau Gwent reported the lowest percentage of people who could speak Welsh at 7.8%
'Critical time'
A new campaign to promote the everyday use of Welsh is also among the measures being announced by Mr Jones at the National Eisteddfod in Llanelli on Wednesday.
He said: "Creating opportunities for people to speak Welsh and giving them the confidence to do so are key commitments of today's statement.
"We know that it is a critical time for the Welsh language and that the next decade will show whether or not we have succeeded in strengthening its position."
Robin Farrar, chair of Welsh language campaigners Cymdeithas yr Iaith Gymraeg: "Although we welcome the new centres, we think it's important to see the larger picture.
"Investment on promoting the Welsh language is pitiful - around 0.15% of the government's budget."
In June the first minister announced £1.6m of funding over two years to strengthen the link between the Welsh language and the economy and to boost the language in the community but campaigners and political opponents said the plans lacked substance.