For Wales 'don't read Scotland', says Green leader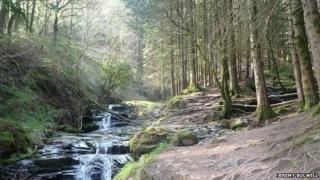 Devolution is not a gift. It is a responsibility
Greens are not especially concerned by national boundaries, but we do believe that decisions should be taken closest to the people who will be most affected, and that sometimes, but not necessarily, means devolution.
A strong Scottish government can have a big impact on sustainability and equality; a weak one wouldn't make a dent.
A Yes vote for Scottish independence is a matter for the people of Scotland, yet people wonder how this might affect Wales. Right now, I don't believe there is an appetite for more powers in Wales, because since devolution the governments in place have shown neither leadership nor inspiration.
Tragically Wales has badly managed the powers we do have - particularly on energy, health and education - and have not in any way roused the people of Wales into thinking there would be any benefit to greater devolution.
If Wales wants to value greater equality, strong welfare provision and a dynamic economy which is based more and more on clean energy creation, then it must, like Scotland, show greater intellectual originality.
Wales needs stronger assembly members and a more imaginative civil service in order to deliver economic viability.
Energy security
We need to invest in the potential of this resource-rich land and restore pride and spirit and joy in our future development.
Top of the list has to be the specific issue of repatriating powers to the assembly for energy generation plants over 50 megawatts. In 16 sorry years of muddled devolution we have gone nowhere on this, and backwards on almost everything else.
Community owned energy means profits stay in the locality, price stability and self-reliance. It also means exports. North Wales already exports energy to England.
By contrast Scotland is well on the way to energy security. Currently more than 50% of its electricity comes from renewables and Scotland is well on target to reach 100% by 2020.
In Wales we have access to more than twice the renewable energy we can use (Planning for Renewable Energy 2011). The implications for jobs, security and prosperity seem to be lost on Welsh AM's, but they are not lost on the Scots who are actively forging a sustainable future for themselves.
An independent Scotland could do well. Successive Scottish governments have taken firm strategic steps to place Scotland on track to achieve the needs of its future, both in terms of political astuteness, and in terms of environmental, economic and social progress.
In Wales we have yet to see vision and leadership. The inability of the Wales government to take us out of neo-colonial dependence on England, and create a coherent long-term energy policy to secure the future for every woman, man and child, for generations to come, is one of the main reasons a Yes vote in Scotland would have next to no impact in Wales.
Welsh Conservative leader Andrew RT Davies makes his case for Scotland remaining in the UK here.
In response to Pippa Bartolotti's criticism of the way devolved powers have been used in Wales, the Welsh government said in a statement:
"We are committed to creating a low-carbon economy and unlocking Wales' energy potential.
"The first minister leads on our Energy Wales: A Low Carbon Transition programme and we are working closely with the industry and communities to achieve its aims.
"This includes regular meetings of the Energy Wales Strategy Delivery Group, chaired by the first minister and attended by representatives from across the sector, to look at ways to maximise Wales' energy potential.
"The low carbon and renewable sectors employ over 30,000 people in Wales and support £5.5 billion in sales annually.
"At the end of 2012, there were over 36,000 renewable developments in Wales producing 18% of electricity used in Wales. This number is growing substantially with many GigaWatts of capacity, being constructed, in planning or proposed.
"We wholly agree that decisions should be taken closest to the people most affected, this is already the case for energy in Scotland, but not for Wales. While the UK government have agreed to giving us enhanced energy powers in response to Silk II, we believe there is a strong case for going further to achieve our energy ambitions."