£1bn M4 relief road plans defended by Edwina Hart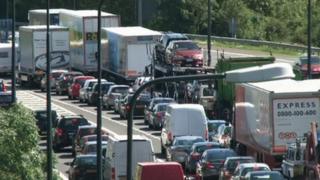 Transport Minister Edwina Hart has defended her decision to invest £1bn in a new motorway to the south of Newport.
The cross-party environment committee says it has "grave concerns", while Plaid Cymru has withdrawn from budget talks with Welsh ministers in protest.
Mrs Hart said she expected a challenge to the decision because that was "the reality" of such major projects.
On criticism of the timing of the announcement, she said government operated "on its own timescales".
She insisted government had to ensure it "gets on with governing" and it was up to ministers to "make the decision".
Mrs Hart gave the project the go-ahead on Wednesday, following consultation over three route options, but there has been anger a fourth put forward did not feature.
Plaid Cymru said it was pulling out of budget talks because the Welsh government was making financial decisions in a "reckless" way.
Labour, with 30 of the 60 seats in the Senedd, needs to agree the budget with opposition parties before it can be passed later this year.
The selected route of the new motorway, known as the the black route, will run between Junctions 23 and 29 and is intended to tackle regular traffic congestion in and out of south Wales.
A fourth option was put forward three months after the consultation on three possible routes began last September, by transport expert Prof Stuart Cole.
This so-called blue route offered a cheaper and quicker alternative, involving improving existing roads.
It is understood to have been considered as part of the final decision making process.
The environment committee's report, due out next week but obtained in draft form by BBC Wales, raises concerns about this and other issues, including whether the first three options have enough variations to meet planning regulations.
Both opposition and Labour AMs have complained because Mrs Hart made her announcement before the report was published.
Analysis
By Tomos Livingstone, BBC Wales political correspondent
The bulldozers will not move in to Magor for several years, but the decision to press ahead with a new £1bn motorway around Newport is leaving plenty of political rubble in its wake.
There was no obligation on Edwina Hart to wait for the assembly's environment committee to report back before she made her announcement - she is the minister and it is up to her.
But there are questions about her timing. Yesterday was the last day of term, and the committee - made up of members of all parties - were almost ready to publish.
Their report is going to be critical, saying not enough attention was paid to alternative ideas, and Mrs Hart's decision to go ahead anyway has put noses out of joint. Even the famed discipline of the Labour group in Cardiff Bay hasn't stopped Labour AMs voicing their disappointment.
It is also led to a rift with other parties. In most circumstances Labour won't mind too much that Plaid Cymru is unhappy. But Labour only has half the seats in Cardiff Bay and once a year it needs a hand to get the budget through.
Plaid now say they will not take part in talks, saying the £1bn cost of the new motorway is an irresponsible use of the budget. What about a deal with the Lib Dems instead? They say they are not walking away yet, but it will be difficult for them to do a deal with the M4 decision as it is.
The new motorway is supposed to reduce delays for motorists. Edwina Hart might find her decision's created a fair few logjams for the rest of the Welsh government in the months ahead.
Defending the timing of her announcement, Mrs Hart said: "Government has its own timescales in terms of decisions that it needs to undertake.
"It was out to consultation back end of last year and we therefore dutifully went through the whole consultation process having looked at the people who responded to our consultation.
"It was coming on my desk and if I hadn't made the decision and advised the assembly yesterday I'd have been criticised, if I'd done it in August, and I wanted to keep within those timescales."
Asked about the possibility of a legal challenge, Mrs Hart said she fully expected one.
"With something like this with passions on all sides, I know there's concern for the environment, we've had a lot of lobbying from areas.
"I'm sure there'll be a challenge but you tell me what major infrastructure project - HS2 or anything else - is not subject to a challenge.
"That is the reality of the world we work in, that's the reality of the world I work in," she added.