Four sacked Tory shadow ministers are reinstated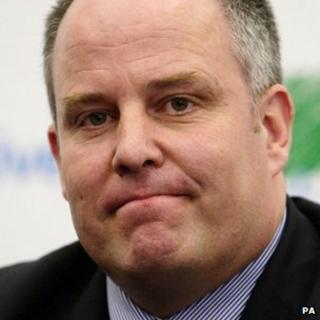 Four Tory AMs sacked from the party's front bench at the assembly in February have been reinstated.
Nick Ramsay, Antoinette Sandbach, Mohammad Asghar and Janet Finch-Saunders rebelled in a vote on the devolution of income tax.
Their leader, Andrew RT Davies, had already disagreed with the then Welsh Secretary David Jones about the issue.
Mr Jones has denied suggestions the move was prompted by his sacking in this week's cabinet reshuffle.
A Conservative source had indicated that the reshuffle was the reason behind the AMs return to the front bench.
But Mr Jones, whose place in the cabinet was taken by his former deputy Stephen Crabb on Tuesday, told BBC Wales that whoever had made such claims was motivated by "personal spite" against him.
The former Welsh secretary said he had spoken to Nick Ramsay, Antoinette Sandbach and Janet Finch-Saunders last week, and they had all told him they were being reinstated, but that the announcement was not being made until now.
Mr Ramsay has been appointed shadow finance minister, Ms Sandbach is shadow environment minister, Ms Finch-Saunders will speak for her party on local government and Mr Asghar becomes shadow minister for equalities and sport. The roles had previously been shared out among other members of the shadow cabinet.
Lockstep
The assembly vote which led to problems on the devolution of income tax revolved around whether the so-called lockstep should remain.
This is the rule which means that if income tax was devolved then Welsh ministers would not be able to alter individual tax bands. Instead, any changes up or down would have to be mirrored across all of the bands.
Mr Davies wanted Wales to have more flexibility, while Mr Jones wanted the lockstep to remain.
The two men had a public disagreement over the issue.
The four AMs voted against Mr Davies and were effectively sacked for siding with Mr Jones and, ultimately, siding with the prime minister because the lockstep was the policy of the party at Westminster and was the model being devolved.
The affair became a major embarrassment for the party at Cardiff Bay, and made it an easy target for Carwyn Jones during First Minister's Questions.
It was also said that Downing Street was unhappy with the state of affairs and the issue had led to criticism of the role played by the former Welsh secretary.