Concern small schools could merge raised by UCAC union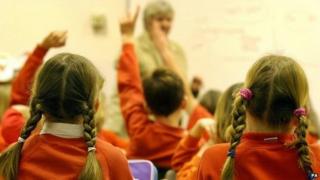 Nearly a third of primary schools across Wales could merge without consulting staff or parents, a teaching union has warned.
UCAC said it was because the definition of a small school has changed from fewer than 10 pupils to fewer than 91.
The union said 70% of primary schools in Ceredigion and 62% in Gwynedd could be merged without such a consultation.
Ministers said their new definition was the one used by both school inspectors Estyn and the Wales Audit Office (WAO).
UCAC's Rebecca Williams argued it was "totally unsuitable" because a school of around 90 pupils was not small "in a Welsh context".
She said her union was not opposed to merging, or federating, schools "because there could be substantial benefits to such arrangements".
"However, we are concerned that this new definition will leave the pupils, parents and staff of a significant proportion of schools in Wales without a voice in the process," she said.
Legislation changing the definition of small schools came into force in May.
'Better teachers'
A Welsh government spokesman said the decision to define a small school as one with fewer than 91 pupils was taken because the results of a consultation favoured using the same definition as Estyn and the WAO.
"We expect local authorities to be discussing federation proposals with schools at an early stage, explaining the benefits and opportunities to allay concerns from the school community," the spokesman said.
"It's important to keep in mind that federation is not about school closures - it is about schools working together and sharing a governing body.
"Schools that are federated remain in their communities, retain their own identity and budget, ethos and name.
"Federation of schools, especially small schools, offers opportunities to share resources including staff, facilities and budgets and would allow small schools to offer salaries that would attract better quality teachers," he added.