Caerphilly council leader: Budgets hit by 'uncertainty'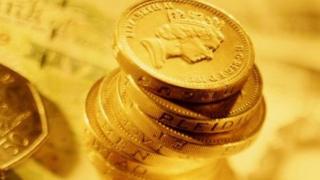 Uncertainty over budgets is making it impossible for local authorities to plan ahead, said a council leader.
Caerphilly leader Keith Reynolds has called for more detail from the Welsh government after warnings of a further budget squeeze from next year.
As several councils expressed concern over the multi-million pound savings required, Mr Reynolds said cuts would need to be "harder and deeper".
Ministers have said councils were given the financial clarity requested.
Local Government Minister Lesley Griffiths announced last month that local authorities across Wales should prepare for funding cuts of up to 4.5% next year.
She had initially suggested that councils faced cuts of 1.5%.
Councils said they were "utterly dismayed" as this was the second year they were being "decimated".
Earlier this month, Denbighshire council leader Hugh Evans accused the Welsh government of "really poor financial planning".
Other council leaders have also now spoken out, with Mr Reynolds saying Caerphilly would need deep cuts to "deliver these huge savings".
"I would urge the Welsh government to provide clarity about the actual budget reductions as soon as possible so that we can make firm plans for the future," he said.
'Worst case scenario'
"The difficulty we face at present is that these are just indications from the Welsh government and we will not have the true picture about the final budget settlement until later this autumn."
Caerphilly council said that in a worst case scenario, the new funding cuts could add £8.6m to its current savings target for 2015/16 and a further £8.1m for 16/17.
Elsewhere, Torfaen council leader Bob Wellington has warned the local authority was entering "new territory" which could mean "considering stopping some services altogether".
"This now presents the council with some very difficult future choices in terms of delivering services and protecting the jobs of the people who deliver these services," he said.
The council said if the Welsh government forecasts became reality, it would have to save £10m more than previously identified.
Carmarthenshire council chief executive Mark James said the authority would have to find extra savings of £15m to £16m over the next two years.
The Welsh government has previously said that Ms Griffiths had written to councils about the challenges which lay ahead for all public services in Wales and the financial outlook for 2015-16 and beyond.
A spokesman said that the body which represents councils in Wales, the Welsh Local Government Authority, has acknowledged that local government in Wales had been "protected from the worst of the public spending cuts, which is in contrast to the deep cuts faced in England for the past four years".