BMA 'deeply disappointed' over consultant pay offer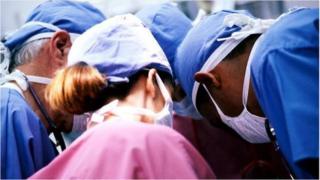 The British Medical Association has said it is "deeply disappointed" Welsh ministers are not offering hospital consultants a general 1% pay rise.
A review body suggested NHS staff across the UK should get a 1% increase.
But Welsh ministers announced the rise would only go to consultants at the top of their pay grades, who do not automatically receive an increase for progressing in their jobs.
The health minister said the offer was fair during a financial squeeze.
Mark Drakeford said the salaries of the lowest paid NHS staff would be increased to the level of the living wage, at least £7.65 an hour from September.
The rate, above the £6.31 minimum wage rate, is estimated by the Living Wage Foundation to be the money needed to cover basic living costs.
Mr Drakeford's decision on consultants' pay mirrors a similar decision, made in April, by Health Secretary Jeremy Hunt on NHS pay in England.
However the Scottish government adopted the pay review body's recommendation of a general 1% pay increase.
'Loggerheads'
BMA Welsh Secretary Dr Richard Lewis said the pay offer could worsen the recruitment and retention crisis already facing the Welsh NHS.
He said a quarter of all consultants working in Wales had, in recent weeks, emailed the BMA to express their anger, with many considering leaving the Welsh NHS.
But Mr Drakeford told AMs that the highest paid in the health service - or those with "the broadest shoulders" - should also share the burden of the financial squeeze facing the health service.
Under the pay offer the salaries of most senior managers in the NHS will be frozen.
For weeks the BMA and Welsh government have been at loggerheads over the issue of consultants pay.
The BMA has insisted it would not enter into detailed negotiations unless ministers scrapped what it called financial preconditions.
On Wednesday, Mr Drakeford insisted the Welsh government had not imposed preconditions.
'Bizarre'
The government also announced that because of a lack of "meaningful negotiation" with doctors representatives, it would join Northern Ireland and England in negotiating a common consultant contract.
It would mean the scrapping of the separate contract for consultants working in Wales - which has for a number of years been negotiated between the government and BMA Wales.
Dr Lewis said: "We would have to explore with members what that suggestion means.
"It is bizarre, given that the Welsh government has consistently insisted that it's committed to Welsh solutions for welsh problems.
"The Welsh Consultants Contract was specifically designed to deal with recruitment and retention problems.
"This is inconsistent thinking."