Sacked minister Alun Davies's actions 'reprehensible'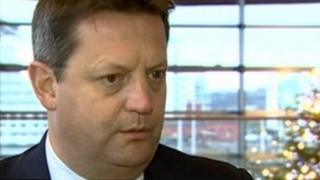 The behaviour of sacked environment minister Alun Davies has been condemned as "reprehensible" by the union representing senior civil servants.
Mr Davies was dismissed for putting pressure on officials for private information on opposition AMs.
He apologised on Tuesday evening, saying he had placed staff in "a very difficult situation".
Paul Neilson from the First Division Association said civil servants had to remain neutral.
Last week Mr Davies was reprimanded for a breach of the ministerial code.
Opposition parties said he should have been sacked for lobbying Natural Resources Wales over a £280m motor racing circuit in his constituency.
'Extreme example'
Mr Davies held on to his job, but was dismissed on Tuesday after it emerged he had repeatedly asked civil servants for details of other AMs' farm subsidies, despite being told the information he had requested was not publically available. First Minister Carwyn Jones said his actions were "unacceptable".
Mr Neilson, the First Division Association's national officer for Wales, said: "This is an extreme example where the behaviour was reprehensible.
"No minister should ask a civil servant to do something that is in breach of the civil service code.
"Here, the civil servants acted absolutely properly.
"But it shows the pressure they can come under from ministers, when they have to be neutral".
On Tuesday evening, the sacked minister said he wanted to apologise to the civil servants "whom I placed in a very difficult situation".
He also said he was "sorry to be leaving government at this point in time". He added: "I will continue to support the first minister and the Welsh Labour government".
Mr Davies said his "focus in the future" would be his constituency.
His comments were made in a statement, after he refused requests by BBC Wales for an interview.
Opposition parties have accused Mr Davies of attempting to run a smear campaign, and some have suggested he should stand down as an assembly member. The first minister called that idea "ridiculous".
'Rampage for revenge'
Meanwhile the Liberal Democrats are raising new questions about whether anyone else in Labour knew that Mr Davies had requested the information about farm subsidies.
They point out that on July 2, hours after Mr Davies emailed his officials asking for details of any payments to the five opposition AMs, the @Laboursenedd Twitter account posted messages drawing attention to questions Kirsty Williams was asking about support to farmers in her own constituency.
Ms Williams, who is married to a farmer, said: "The First Minister needs to investigate who else in his party knew about what Alun Davies was up to.
"Unless it is just a massive coincidence, judging from his party's official Twitter feed it would seem that others high up in the Labour party possibly knew about it."
She said Mr Davies had "gone on a rampage to get revenge".
"Labour needs to come clean about who else knew about this concentrated smear campaign," she said.
"At the time it seemed particularly odd that the Labour party was tweeting the questions. It now seems clear that it was an attempt at intimidation; yet they've actually shot themselves in the foot."
Rise and fall
As a minister, Alun Davies was never afraid to speak his mind, and that won him both political admirers and enemies.
BBC Wales' environment correspondent, Iolo ap Dafydd, takes a closer look at the background of the Blaenau Gwent AM.
Former First Minister Rhodri Morgan was asked on BBC Radio Wales how he would have reacted in the job if faced with Mr Davies's actions, and replied: "I would be jumping 6ft in the air I can tell you. I would be absolutely steaming over it.
"Presumably there was a conversation between Carwyn and Alun but it would've been a pretty brutal one if it was me, and I'm pretty confident in saying it was probably a pretty brutal one between Carwyn and Alun as well along the lines of 'what on earth were you thinking of?'."
On Wednesday AMs will debate an opposition motion calling for an independent adjudicator to oversee the ministerial code.
The opposition parties say the current system gives too much power to the first minister in judging whether the code has been broken.
Meanwhile Mr Davies will not be replaced, instead his portfolio of responsibilities will be split between three of his colleagues.
Economy and Transport Minister Edwina Hart will look after agriculture, fisheries and food, Sport and Culture Minister John Griffiths has had environment added to his portfolio and Rebecca Evans is promoted from the backbenches to become deputy minister for agriculture and fisheries.
Ms Hart will attend the Royal Welsh Show at the end of July as part of her newly defined role.