Valleys rail upgrade plan 'at risk' says David Jones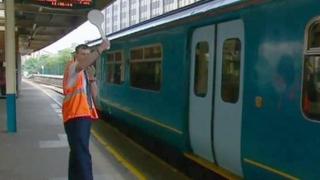 A planned upgrade to electrify the Valleys rail network has been put at risk by the Welsh government, the Welsh Secretary David Jones has said.
His comments came amid a row between the Welsh and UK governments over which would pay for the project.
Mr Jones made the comments at a conference in Cardiff on infrastructure projects.
But Wales' Finance Minister Jane Hutt said it was disappointing Mr Jones was trying to score political points.
The rail improvements planned will see the upgrade of the main line from London Paddington to Cardiff which is due to be completed by 2017, and extended to Swansea by 2018 at a cost of £850m.
And the electrification of the Valleys lines - the commuter lines in and out of Cardiff - is due to be completed between 2019 and 2024.
But the Valleys line plan was thrown into doubt in March by a row over the financing of the project.
At the time First Minister Carwyn Jones claimed the UK government agreed it would fund the electrification of the London-Swansea main line and the Valleys lines.
But Mr Jones's response was that that was not the agreed deal and the UK government insisted ministers in Cardiff had agreed to bear the cost of electrifying the Valleys lines.
On Monday at a conference on infrastructure projects in Cardiff Mr Jones added: "I am seriously concerned their [Welsh government] stance is putting this transformational project at risk."
He said he had a paper trail showing that there was a deal that the UK government would pay for work on the Great Western mainline to Swansea and the Welsh government would pay for the valleys.
But the Welsh government points to an interview David Cameron gave to BBC Wales' Wales Today programme in which he said the UK government was covering the cost.
An outline business case for Valleys rail electrification - written by the Welsh government in 2012 - estimates the cost at between £309m and £463m.
The Welsh government has been asked for its response to Mr Jones's comments.