Welsh councils face cuts of up to 4.5%, ministers warn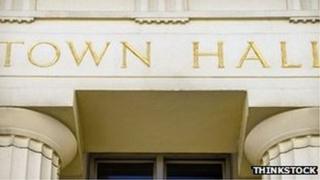 Local authorities across Wales should prepare for funding cuts of up to 4.5% next year, a minister has warned.
Local Government Minister Lesley Griffiths has told councils to be ready for a "range of scenarios" of cuts in support of between 1.5% and 4.5%.
In a letter, she said she would give local authorities "as much clarity as possible" on the "challenges to come".
Councils said they were "utterly dismayed" as this was the second year they were being "decimated".
A Welsh government spokeswoman said: "While making forecasts of the fiscal position of the UK government is exceptionally challenging, it is clear that the scale of reductions Wales has faced since 2010-11 will continue in the next spending review period.
"Over the past three years, we protected local authorities in Wales from the cuts experienced by many other public services. In doing so, we made it clear authorities needed to prepare for the challenges to come."
She said Ms Griffiths had "encouraged councils to plan for challenging settlements for 2015-16 and beyond, and to consider a range of scenarios with reductions in the general support from the Welsh government of between 1.5% and 4.5% for 2015-16".
'Massive impact'
In response, the Welsh Local Government Association (WLGA) said councils were "utterly dismayed by this".
Chief executive Steve Thomas said: "This is the second year that councils are being decimated.
"We cannot be in a position where health takes over the funding," he said referring to frustration in local government that Welsh ministers have prioritised NHS funding as the budget they receive from the Treasury continues to fall.
The average council cut this year across Wales has been 3.5%.
In a letter to councils, WLGA finance spokesman and Flintshire council leader Aaron Shotton said local authority leaders had told ministers further deep cuts would have a "massive impact" on local services.
Mr Shotton said councils were in an "incredibly serious situation".