Foreign ministers have taste of Wales before Nato summit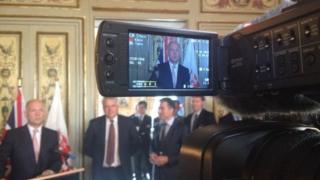 There is plenty to chew over at this meeting of Nato foreign ministers, the last before the summit at the Celtic Manor in September.
Wales has a good case to be one of the top three most talked about countries here.
It is vying for the top slot with Afghanistan and Ukraine.
On the eve of the conference, foreign ministers sat down to a dinner of Welsh food and drink - Pembrokeshire potatoes, sparkling wine from Monmouthshire - hosted by Carwyn Jones and Foreign Secretary William Hague.
Mr Jones greeted guests, including the US Secretary of State, John Kerry.
It is the second time the two have met. In September, Mr Jones will hope to greet not just Mr Kerr, but his boss, US President Barack Obama.
The Welsh government wants to capitalise on the summit.
Although tight security will inconvenience people who live and work in and around Newport, Mr Jones says the summit - the biggest ever hosted in the UK - is a unique opportunity to promote Wales.
For two days in September, the world will be looking at us.
This conference in Brussels is a "stepping stone" towards the main event in Newport, according to Nato secretary general Anders Fogh Rasmussen.
The summit logo has been unveiled. Like all good Welsh logos, it has a dragon on it.
Transporter Bridge
Newport's famous transporter bridge also makes an appearance. Doubtless civic leaders in Newport hope their beloved bridge will become a good deal more famous thanks to Nato.
And this meeting in Brussels is a final opportunity for alliance members to agree the agenda for the summit. But in reality, there are obvious topics to discuss.
"Russia's aggression against Ukraine has fundamentally changed the security landscape," the secretary general said as he opened official proceedings in Brussels on Wednesday.
Both sides in the fighting seem to agree that a ceasefire is as good as over, a Ukrainian military helicopter was shot down the day before this conference started. Ministers in Brussels are discussing the establishment of a trust fund to support Ukraine's defence capacity.
On Afghanistan, Nato says its mission has been a success. In the UK, there may be disagreement about what success looks like.
Corruption
But Nato officials insist that the large number of people who voted in Afghanistan's recent presidential elections shows the country is "on the right track" to handle its own security when British and US forces leave later this year.
There was violence during the voting, and concern about corruption. But Nato compares the situation favourably with elections in 2009 carried out under its own supervision - they were much more bloody.
But ask them about Ukraine and they are less confident. It is a topic being discussed in Brussels, but do not expect a clear answer to emerge until Nato leaders hold their summit in Newport.
How should the west deal with Russia? It is a question that might well be answered in Wales.