Joint pledge to get more women into public office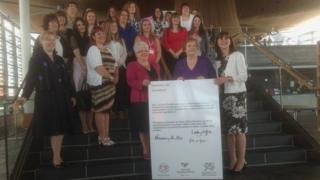 A commitment to increase representation of women in public life has been signed by the assembly, Welsh Local Government Association (WLGA) and Welsh ministers.
Assembly Presiding Officer Dame Rosemary Butler said women should "should be making the decisions, not just implementing them".
The WLGA's Ellen ap Gwynn said making councils more representative was "crucial to local democracy".
Only 9% of council leaders and 27% of councillors in Wales are women.
Only 2% of the chief executives in the top 50 Welsh companies are female and 18% of council chief executives.
The gender balance in Cardiff Bay is better, with 42% of AMs being women, but that is down from 50% in 2003.
The figures were contained in a report by the Equality and Human Rights Commission in March, which said almost no progress had been made getting women into positions of power and influence in Wales over the last ten years.
'Diverse'
On Wednesday, Dame Rosemary said she had set up a development scheme and website, the Women in Public Life web portal, to give women the information, confidence and support to apply for public positions.
She said: "I also wrote to the leaders of all four party groups in the assembly to consider steps to ensure more women put themselves up as candidates in the 2016 assembly elections.
"I know that both the Welsh government and WLGA have also implemented strategic programmes to address this issue but by signing this joint statement today we ensure the issue stays at the top of the political agenda."
Ellen ap Gwynn, the WLGA Equalities spokeswoman and a Ceredigion councillor, said many local authorities were reviewing how meetings are run, exploring new technology and working practices to make it easier for women to take leadership roles.
"Ensuring that politicians and civic leaders are representative of Wales's increasingly diverse communities is crucial to local democracy, and ensuring that as many people as possible engage with the local democratic process is a priority for all councils in Wales," she said.
Local opposition
Local Government Minister Lesley Griffiths argued having women in roles such as councillors resulted in "better policies and better democracy".
"People want to be represented by themselves, and I think it's really important that we do increase diversity in local government, not just female candidates but across all under-represented groups."
The Labour minister said all the main political parties had committed themselves to ensuring at least 40% of their female candidates were in winnable seats at the next local elections.
But her party is facing strong local opposition to its decision to impose an all-women shortlist to select its general election candidate in Cynon Valley, where the MP Ann Clwyd is standing down.