England 'could leave the union', warns Carwyn Jones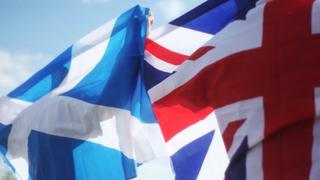 First Minister Carwyn Jones has warned that the 'great danger' of Scottish independence would be England deciding to leave Wales and Northern Ireland.
He said England could vote to get out of a union with the 'expensive' Welsh and Irish after a Scottish Yes vote.
Mr Jones also repeated his call for a convention to discuss the future of the UK, however Scotland votes.
Plaid Cymru said the first minister had shown a "lack of vision", despite great opportunity for constitutional reform.
Mr Jones was speaking at an Institute of Welsh Affairs (IWA) dinner, in Cardiff, on Wednesday night.
Considering 15 years of devolution, the first minister observed that Wales had become a more 'confident nation' since 1999, and that was demonstrated by the attitude of Welsh youngsters.
He also reiterated his call for a 'reserved powers' model of devolution, where powers are assumed to be devolved unless specifically reserved.
Describing it as an important but 'obscure concept', Mr Jones said that while Welsh and Scottish powers should be different, the devolution structure should not.
On the idea of English independence, he warned: "The great danger to my mind, if Scotland votes to leave, is that what's left becomes unstable.
"Not because of Wales' position, because I don't think - and we know from opinion polls - this will lead to a surge in support for independence in Wales.
"But it also means that I can see a scenario where in two or three years time there are calls in England to get out of the union with these expensive Celts in the west and over the Irish Sea.
"If Scotland can leave the UK, so can England.
"That leaves us and Northern Ireland.
"Now that is an implausible scenario I grant you now, but if Scotland leaves I can see that momentum growing.
"'Why are we paying for these people in Wales and Northern Ireland, let's just cast them to one side, the Scots have gone anyway?'
"I can see that happening and it's not in our interests."
'Spectator nation'
A Plaid Cymru spokeswoman said: "It is a sad indictment that the nation's first minister greets the unprecedented opportunity for constitutional reform in these islands with a lack of vision for his own country.
"Rather than provide a vision that empowers the people of Wales to realise their national aspirations, the first minister is content to see Wales as a spectator nation - waiting and watching as other parts of the UK assert their ambitions."