Wales MP's 'condescending claptrap' on Iraq, says ex-Blair adviser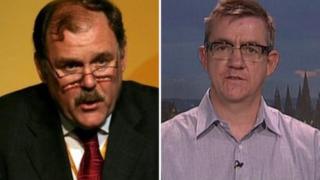 A former adviser to Tony Blair has accused Plaid Cymru's parliamentary leader of talking "condescending claptrap" over the situation in Iraq.
Elfyn Llwyd told BBC Radio Wales Iraq was a "tribal society" and democracy could not be "imposed" on it.
John McTernan, a Blair strategist between 2004 and 2007, said it was condescending to say the Iraqi people "cannot handle democracy".
He said the population there queued to vote "at risk of suicide bombers".
The heated radio exchange between the two men took place as turmoil continued in Iraq, with news that Islamic-led militant forces were closer to Baghdad.
Mr Blair has insisted that there would still be a "major problem" in Iraq now, even if Saddam Hussein had not been toppled in 2003, and urged more western intervention in the area.
Mr Llwyd, the MP for Dwyfor Meirionnydd, told Good Morning Wales: "We have a tribal society, or tribal societies, within Iraq and you are not going to he able to impose democracy upon them, come what may."
He argued that, under Prime Minister Blair and US President George Bush, there had been a "great deal of preparation for war, very little preparation for peace and nation building, and that country now remains a broken state".
Mr Llwyd maintained that the roots of the current crisis were the previous "destruction of Iraq" and "leaving it in a perilous state, and being run by a sectarian outfit. It would "struggle to become a democracy", he said.
'Mistakes'
Mr McTernan responded: "I think it's condescending claptrap to say that the Iraqi people can't handle democracy.
"There have been five separate national elections since 2003 and the Iraqi people queue, even at the risk of suicide bombers, to vote in those elections.
"The turnout in Wales at the last European election or in the most recent local government elections does not show anything like that commitment to democracy."
He said that the allies should not be blamed for Iraqi Prime Minister Nouri al-Maliki's mistakes but that Britain and the United States had withdrawn troops from the country too early.
"All of the mistakes that have been made have been made since 2011," Mr McTernan added.
The Plaid MP then accused Mr Blair of speaking "a huge amount of claptrap" in the lead up to war.