£1.6m boost for the Welsh language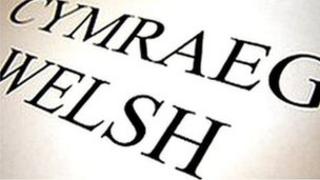 A total of £1.6m is to be spent on measures to strengthen the Welsh language over the next two years, said First Minister Carwyn Jones.
It includes money to support businesses that use the language, including a pilot project in the Teifi Valley in south west Wales.
Mr Jones told AMs it would provide the basis for other schemes across Wales.
Language campaigners and political opponents said the plans lacked substance.
Over the next two years £1.2m would be spent on bodies promoting Welsh in the community, Mr Jones told assembly members.
The pilot will include surgeries to help businesses and a Welsh Language SME (small and medium enterprises) Support Fund.
Other plans in the policy statement include:
helping young people to be more confident and increasing their vocabulary so they can use the language socially
further guidance for planning authorities, with Mr Jones writing to them "noting" ministers' expectation that they consider the language when preparing development plans
changing the way Welsh is taught in English medium schools to ensure all pupils "get the support to speak Welsh with confidence"
improving the planning of Welsh language provision in pre-school education and childcare
Mr Jones said: "We now need to build sound practical policies based on the ideas and imagination at work across Wales.
"This is a draft policy statement and I'm keen to hear comments and suggestions from partners and members of the public.
"Here in government we accept our part in the challenge and we call on our partners across Wales to do the same."
'No substance'
Plaid Cymru Welsh language spokesman Simon Thomas called the first minister's statement "most disappointing".
"Although the government's statement today does contain more substance, a whole year has gone by since they launched their consultation, and there is very little flesh on the bones," he said.
Liberal Democrat AM Aled Roberts said: "Language campaigners consistently say that we need reform in the planning system to protect the language, but no regard has been given today to the need for local councils to review their development plans to consider the Welsh language.
"The fact that many local councils won't do so for many years misses the opportunity to form sustainable Welsh-speaking communities in those areas," he said.
Cymdeithas yr Iaith Gymraeg (Welsh Language Society) said there was "no real substance" in Mr Jones's statement.
Chair Robin Farrar said: "Although there is the figure of a £1.2m investment in the Welsh language, there is only a £400,000 increase - the rest is money being shifted around, and not extra money.
"It is clear that the government understands what areas need to be addressed but there are no significant steps, or bold and innovative plans still, and there's no detail."