Ramsay 'not drunk' says Welsh Conservative leader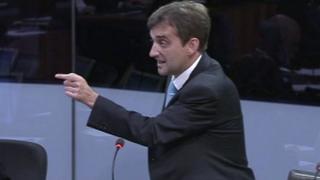 A Conservative AM was not drunk during an assembly debate last week, said Welsh Tory leader Andrew RT Davies.
The presiding officer is investigating the behaviour of Nick Ramsay, who was slurring his words during a debate.
Asked if Mr Ramsay was drunk, Mr Davies said: "I don't believe he was, no."
Mr Davies was speaking to reporters at his weekly media briefing in Cardiff Bay. Mr Ramsay said last week he was not drunk in the chamber.
Presiding Officer Dame Rosemary Butler's investigation follows a letter of complaint to Labour AM and former MP Julie Morgan.
The complainant said Mr Ramsay's contributions had been "slurred" and "incoherent".
On Tuesday, Mr Davies told journalists the matter was "for the presiding officer to determine".
He said he had spoken to Mr Ramsay several times over the past week.
Asked if it would be acceptable for an AM to have a glass or two of wine before an assembly session, Mr Davies said it was for Dame Rosemary to decide "what is and what isn't acceptable behaviour in the chamber".
But Mr Davies said he, personally, never drank alcohol when he was in work.
"I only ever drink orange juice," he added.