Big week for local government future in Wales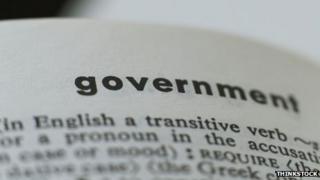 It's going to be a huge week for the future of local government in Wales.
On Thursday, council leaders will be gathering in Llandudno for their annual conference.
And then two days later the Welsh executive committee of the Labour Party could make a decision on what it believes should be the future make-up of local government.
It all follows the Williams Commission which recommended that the 22 councils should be cut to between 10 and 12 through a series of mergers.
Once Labour decides on the numbers then it's likely the plan will become Welsh government policy after being rubber stamped by the cabinet.
In the meantime Carwyn Jones is trying to persuade some councils to merge voluntarily.
If there are any takers then legislation could be introduced relatively quickly at the assembly to allow that to happen formally.
New legislation enforcing a full re-organisation would only happen after the next assembly elections in 2016.
Either way the Welsh government needs support from another party and that seems a long way off.
Negotiations between the parties at the assembly have already begun but presumably a definitive vision from Labour is needed before any meaningful talks get off the ground.
A deal with the Liberal Democrats would be difficult because of an insistence from the party for PR in council elections which Labour would never agree to.
The tone from the Conservatives has been negative as re-organisation may see them lose control of Monmouthshire and make it more difficult for them to regain places like the Vale of Glamorgan.
'Getting the map right'
Which then leaves Plaid Cymru who appear the most likely candidate to strike a deal, but there are obstacles here as well judging by some of the critical comments from the Plaid leader of Ceredigion Ellen ap Gwynn on the Sunday Politics this weekend.
Carwyn Jones is insisting that changes should not favour any of the parties politically but that will be easier said than done.
This is what he told me at his monthly news conference:
"We as a party will come to a decision in terms of what we see as a way forward.
"We have to do that because we are the governing party.
"We understand that and we would urge the other parties to do the same.
"We will come to a decision on what the map should look like and what needs to be looked at in terms of getting the map right.
"These will all form part of the discussions on Saturday.
"What I do not know is where all the other parties sit. One of the things we have to avoid is naked party political manoeuvring for electoral advantage.
"From my point of view I want to make sure that people get better services from all their local authorities in Wales and you have to have a map that is not skewed to help one or more parties."
When I asked what his message was to council leaders gathering at the WLGA annual conference, he said:
"This is a difficult time. Councils have to make difficult decisions and so have we. We cannot give councils money that we do not have.
"And as I have said to them it's going to get more difficult before it gets easier because you know the squeeze is coming from Whitehall and that squeeze affects us.
"We have other priorities we have to look at such as health for example and we have to prioritise those areas that are important."
There's a clear message here that it's going to be very difficult for local authorities to extract any more money over the next few years from a Welsh government facing enormous pressure to invest in health services.
Last week, Mr Jones said he'd lost faith in the ability of some councils to deliver education services.
The response then from the WLGA indicated that his comments were far from helpful.
I think it's fair to assume the message from Llandudno this week will be more robust.
In recent months the view of many council leaders dealing with budget cuts has been that they need re-organisation like a hole in the head.
But one senior government source told me last week there are no council dinosaurs roaming around Wales with their heads in the sand saying nothing needs to change.
In other words there is a general acceptance that 22 is too many. That theory will be put to the test this week.