No reason why Scotland gets offered more powers - Wood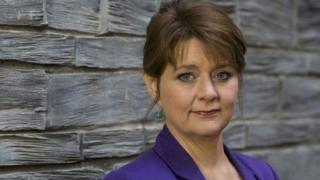 Wales is not getting 'the going rate' for extra powers from Westminster, Plaid Cymru leader Leanne Wood said tonight.
She said unionist parties were not offering similar powers to Wales to those being offered to Scotland.
She said there was "no logical reason" for the different approach.
Wales has found itself "trailing behind the other nations of these islands," she said.
The Conservatives recently published a policy document suggesting wide-ranging powers over income tax be devolved to Scotland in the event of a 'no' vote in September's independence referendum.
More limited powers - including a stipulation that tax bands could only be varied at the same time and by the same amount - are currently being offered to the Welsh Government as part of the Wales Bill.
'Trailing behind'
Speaking at University College, London, Ms Wood said: "It is essential for Wales to find and express its voice as a nation - a participant nation in these islands.
"As a constitutional entity, Wales has found itself trailing behind the other nations of these islands, often having to settle for well below 'the going rate' for powers over its own affairs.
"That is evidenced today as the 'devolution going rate' set in Scotland is not being matched in pace by that offered by Unionist parties to Wales.
"There is no logical reason for this difference in offering."
She said it was time devolution "gave way to self-government".
"Devolution - which is essentially about power retained - must give way to self-government.
"I propose a model of Welsh self-government where the people of Wales themselves are sovereign."
Plaid Cymru would call for the devolution of the Welsh constitution - including the right to hold referendums - if it wins the 2016 Assembly elections.