Wales unemployment drops to 6.6%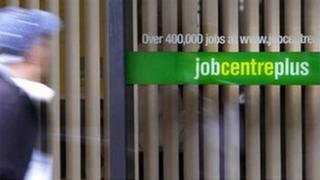 Unemployment in Wales has dropped from 6.8% to 6.6% across Wales and the UK as a whole, Office for National Statistics figures show.
February to April's figures show there are 97,000 people unemployed in Wales, down 28,000 on the same time last year.
Welsh Secretary David Jones said it showed UK ministers' "long-term economic plan" was working.
First Minister Carwyn Jones said Welsh government policies were "clearly making a difference".
Welsh unemployment in Wales has fallen to levels not seen since the financial crisis.
The last time it was below 100,000 was in autumn 2008 .
UK unemployment is now 2.16 million, 347,000 fewer than a year ago.
'Resilient'
David Jones said: "Last week, the Queen's Speech marked the next big step in this government's long-term economic plan.
"Today's figures show that the plan is working and the measures that this government has put in place has set Wales on the right course toward a stronger, more resilient economy."
Carwyn Jones said the data showed the Welsh economy was maintaining its "positive momentum" and making a "strong contribution" to the UK economic recovery.
He said: "Over the past year unemployment in Wales has fallen faster than the whole of the UK, especially youth unemployment, where we have seen a 13.6% fall in unemployment amongst 16-17 year olds in Wales compared to a fall of just 1.6% across the UK.
"Our policies are clearly making a difference in Wales.
"We must ensure that any economic recovery is felt by all."
'Cold comfort'
However, trade unions said people's pay levels had "nosedived".
Wales TUC General Secretary Martin Mansfield said: "It's great that more people are joining the workforce but hugely worrying that workers are still not getting the decent pay rises they need to get by.
"The news that the economy is returning to its pre-crash size will be of cold comfort to workers across Wales who, on average, found themselves £1,600 a year worse off between 2010 and 2013."
Plaid Cymru economy spokesman Rhun ap Iorwerth added: "The number of those working part-time because they couldn't find a full-time job is up 3,000 to 69,000 over the year, economic inactivity has risen by 25,000 over the year, and despite the Welsh government's use of experimental figures, the ONS statistics show the youth unemployment rate is 21.3%, higher than the other UK nations and significantly higher than the UK average.
"On top of this, under-employment continues to soar.
"We must ensure that any economic recovery is felt by all."