Peter Hain and Dafydd Wigley look back at Welsh assembly's dawn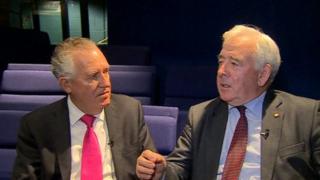 Labour's Peter Hain and Plaid Cymru's Dafydd Wigley were key players in Wales' 1997 devolution referendum drama and famously took to the stage of the Royal Welsh College of Music and Drama to celebrate a very narrow 'Yes' vote.
That was in the early hours of 19 September, 1997 but they returned to the Cardiff venue to reminisce and assess whether the hopes and ambitions of that time had been realised in the 15 years since the assembly began its work.
In 1997 Peter Hain was a Welsh Office minister in Tony Blair's newly-elected Labour government, while Caernarfon MP Dafydd Wigley was the leader of Plaid Cymru - usually political opponents but united in the mission to secure devolution for Wales.
The college has had a multi-million pound revamp since it hosted the referendum's national count and the memorable scenes of celebration.
It was on a stage there that then Welsh Secretary Ron Davies uttered the oft-repeated: "It is a very good morning in Wales".
But did it really signal a new dawn for Welsh politics and society?
According to Peter Hain, people in some ways had "impossible expectations" but, he says, it would now be "unthinkable" not to have an assembly for Wales.
Lord Wigley agrees that the institution has established itself as part of the political landscape.
But the Plaid peer argues the greater challenge is to move away from "one-party rule".
Labour has led every Welsh government since 1999 and according to Lord Wigley: "If democracy's going to work, you've got to have the ability from time to time of the electorate making a difference and choosing a different government."
For Peter Hain, the attitude of the Welsh civil service has been a disappointment.
He said: "I think the Welsh civil service is one of the most 'can't do' rather than 'can do' of the entire British civil service and I find that personally disappointing."
Lord Wigley agrees and recalls being told that one very senior civil servant would "rather make no decision than the wrong decision".
"That sums it up doesn't it?", he said.
So what do they consider to be the highs and lows of 15 years of devolution?
'World class'
Both are disappointed there has not been greater improvement to the Welsh economy.
They also agree that former First Minister Rhodri Morgan's decision to abolish the Welsh Development Agency was a mistake.
Peter Hain says a series of distinctive Welsh policies are the high points, including establishing a children's and an older people's commissioner and "a different approach to health and schooling which are more friendly to people rather than market driven".
The charge on plastic bags is one policy which Lord Wigley says is distinctive and is being followed by England.
But he urges against complacency.
He calls for "a determination that second best isn't good enough - we have got to get the best for the people of Wales".
The message is echoed by Peter Hain: "We've got to be world class and we mustn't settle for anything else."